An orphanage in Baja California, Mexico will soon start saving hundreds of dollars each month on electricity costs thanks to their brand new solar system! In October, GRID San Diego and our International Program partnered with nonprofit organizations Corazon de Vida and Get Charged Up to complete our very first project in Mexico--a 10 kilowatt grid-tied solar electric system on the Casa Hogar Ebenezer orphanage.
Home to 35 children ages 3-18 years, the orphanage provides safe accommodations and stability for displaced children in Tijuana. The new solar system will bring clean energy to the orphanage and much-needed savings on their monthly electric bill--money which can instead be used to provide the children with healthy food and school supplies, maintain a comfortable living environment, and unlock new possibilities.
"We usually don't get [cash] donations," remarked Eva Duarte, who runs the orphanage with her husband, Pastor Freddy Duarte. She noted that donations usually come in the form of food, appliances, clothes and toys for the children. "This new system will allow us to save actual money from the [energy] bill and put it where it's needed most."
Power more orphanages with the sun. Donate now to help more orphanages save on electric costs and create a brighter future for the kids there.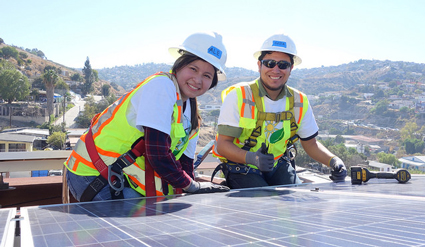 Local community members and students from nearby Universidad Autónoma de Baja California studying Engineering and Renewable Energy joined us for this hands-on project to learn about solar, gain skills to enter the growing renewable energy industry, and have a role in creating a clean energy future for their country.
One participating student, Armando, shared, "This is the first time I have been able to get hands on experience on a solar installation, and I hope to be able to volunteer on many more future projects."
Building upon the success of this first project, GRID will be bringing solar to the Door of Faith orphanage in La Mision, Mexico in Fall 2018 and continue with our ongoing effort to strengthen the local solar workforce, again involving more local university students in this upcoming installation.
Check out more photos from this special project.