A Los Angeles family's future is looking a little bit brighter, and a whole lot cooler, thanks to their brand new solar system! California and Ohio-based IGS Energy employees traveled to the San Fernando Valley--one of the hottest parts of Los Angeles--to help install the system and kick off their new partnership with GRID!
Homeowners Vanny and Vanara Kim first heard about GRID when their relatives in the San Gabriel Valley qualified for our solar program. Facing high electricity bills and extremely hot summers (where temperatures regularly exceed 90 degrees!), Vanny and Vanara eagerly applied to receive a solar system of their own.
As IGS employees converged on the Kim's rooftop in June, temperatures topped 94 degrees, giving the team a taste of summer as they bent conduit, pulled wiring and lifted panels for the installation. The heat proved no match for the IGS crew, who had eagerly anticipated this project since news of their new partnership with GRID was announced earlier in the year.
In March, IGS announced a $300,000 donation to GRID, which will support our work to bring solar to families in the U.S. and Nicaragua. The grant builds on previous support for GRID through IGS' internal philanthropic initiative, IGS Impact Renewable Energy Corps. Through the Energy Corps, two groups of IGS employees traveled to rural Nicaragua with GRID Alternatives' International Program over the past two years, where they worked alongside villagers to bring renewable electricity to off-grid communities. Two additional groups of IGS employees will travel to Mexico to install solar with GRID's International program later this year.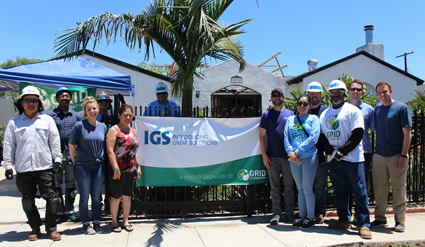 William Neverman, a member of IGS's solar team was excited to participate in the installation. "This experience reaffirmed a greater sense of community for me, and provided a memorable event to share with the IGS Solar team and likeminded partners. GRID's work in the community and local workforce is truly pioneering the future of renewable energy for those who need it most. I can't wait to get back up on the roof with the GRID team again soon!"
By late afternoon, the fourteen brand new solar panels atop the Kim's roof glinted in the sunshine as the IGS crew celebrated a job well done. The Kim's new 3.6 kilowatt system will save them an estimated $995 on electricity costs each year, bringing some much needed relief just in time for summer.
Many thanks to IGS Energy for their people power and partnership! Can't wait to see you on a rooftop again soon!