In the pursuit of a more sustainable and inclusive future, partnerships between organizations and Tribal communities are proving to be a catalyst for profound change.
The U.S. Bank Foundation has supported GRID Alternatives' low-income solar and workforce development programs in California and Colorado since 2010, and in 2018, it expanded its national relationship with GRID Alternatives to support the Tribal Program. In 2022, the U.S. Bank Foundation awarded GRID Alternatives a $200,000 multiyear grant to help the Tribal Program bring hands-on solar installation training to more tribal members and students, partner on workforce development projects, and install renewable energy systems on homes and community buildings for and with Tribal partners. Talia Martin, the director of the Tribal Program, expressed her gratitude and vision: "The continued support from the U.S. Bank Foundation has been instrumental in our endeavors. This multiyear grant not only reflects trust in our mission but also empowers us to touch more lives, foster skill development, and fortify the energy infrastructure of tribal communities. Their continued support provides us the resources to train and work with the local Tribal workforce, which we believe is an essential part of our Tribal partner's energy sovereignty goals and overall socioeconomic well-being."
U.S. Bank Foundation support has helped spark a transformative project within the GRID Alternatives Tribal Program that began in summer 2023—a partnership with the Spokane Indian Housing Authority on the installation of 119 residential solar systems for low-income community members living on the Spokane Reservation. Beyond merely alleviating the financial burden on these families, this endeavor has far-reaching implications. It contributes to a cleaner environment, reducing the carbon footprint while fostering self-sufficiency.
The project's ambition is evident: to install approximately 500 kW-DC by year-end, with a grand finale targeted for the following summer, culminating in a total of 699 kW-DC. Yet, what sets this project apart is not just its scale but its intimate connection to the local community. Six community members have been employed, not only assisting in the installations but also acquiring invaluable training and hands-on experience. Spearheading the training efforts is Dayne Goodheart, whose journey from trainee to a full-time role in the solar industry is a testament to his dedication. A Nez Perce Tribal member from Lapwai, Idaho, Dayne brings over 7 years of construction, solar installation, and training experience to the team. His commitment underscores the program's focus on Tribal community success and energy sovereignty.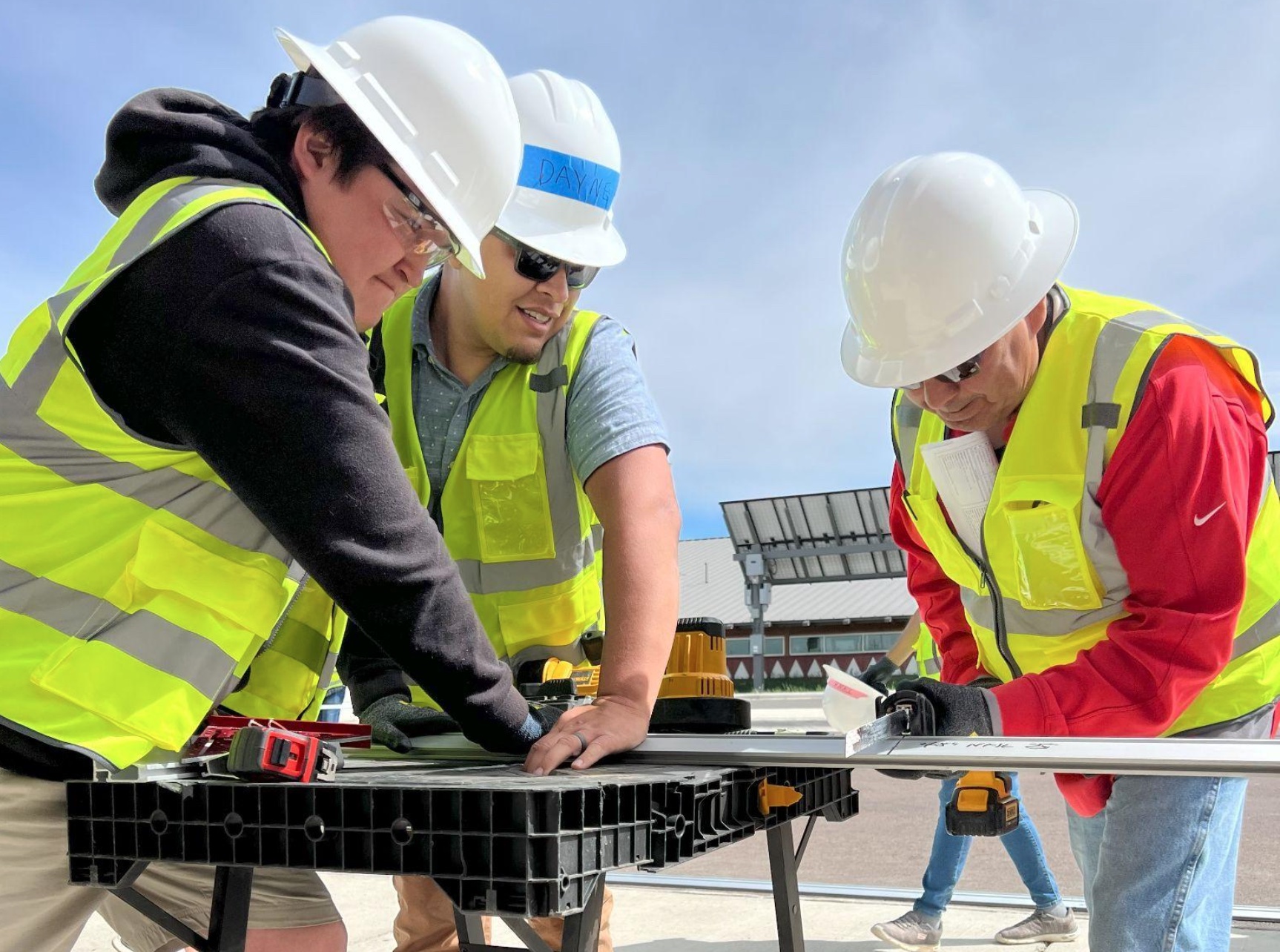 Empowering Through Education
Support from the U.S. Bank Foundation also helped the Tribal Program expand its commitment to Tribal communities through a strategic partnership with Blackfeet Community College (BFCC) in May 2023. Together, the Tribal Program and BFCC devised and executed a comprehensive two-and-a-half-week solar installation training program. This endeavor was not merely an educational exercise; it was designed to empower students and local community members with the knowledge and skills necessary for a sustainable future.
Thirteen individuals participated in this program, and it was uniquely structured to ensure that every trainee received stipends for their participation. The training encompassed two distinct phases. The first week consisted of online instruction delivered through Google Classroom, featuring GRID's Installation Basics Training (IBT) curriculum. IBT, a competency-based program, equips participants with the core skills essential for entry-level solar installation jobs and related construction employment fields.
The second week shifted to in-person training on the BFCC campus, guided by the experienced hand of GRID staff. Leading this phase was Dayne, supported by Laura Lilienkamp and Thelma Wall, both esteemed PV Designers and Trainers within the GRID Tribal Program. The hands-on experience garnered during this in-person training is beyond measure, offering transferable skills applicable to various facets of the solar industry. All essential equipment, including personal protective gear, hand and power tools, and mock installation setups, were thoughtfully provided by GRID.
A Visionary Future
The collaboration between BFCC and GRID is not confined to this training program. Looking ahead, both institutions have jointly submitted an application for a Department of Energy (DOE) grant. If awarded, this funding will be instrumental in transitioning the campus to 100% renewable energy. The centerpiece of this initiative would be the installation of a ground-mounted solar system. Beyond addressing the institution's energy needs, it would support workforce development initiatives, creating opportunities for students and fostering a brighter future.
The U.S. Bank Foundation's support of the GRID Alternatives Tribal Program and Tribal communities, as epitomized by the Spokane Reservation solar project and the BFCC solar training program, stands as a beacon of progress and hope. It underscores the potential for transformative change when organizations and communities unite in their pursuit of sustainability and education.
"The work GRID Alternatives does to create jobs, develop a skilled workforce and build renewable energy systems through the Tribal Program will help drive lasting change in these communities, and we're proud to continue our collaboration with GRID on transformative projects like these," said Erica Opstad, head of Community Affairs and managing director of the U.S. Bank Foundation.
As we look to the future, the impacts of these initiatives promise to extend beyond economics, reaching into the realms of environmental stewardship and, most significantly, promising a more sustainable and promising future for Tribal communities. This is more than an investment; it's a commitment to enduring positive change.