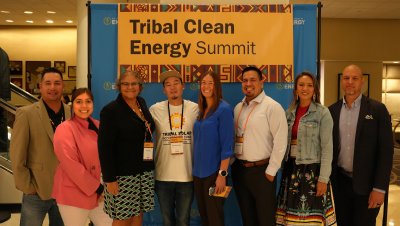 "I believe climate change represents both one of the greatest threats to our way of life, but also one of the greatest opportunities for economic development and job creation, and I do believe tribes can and should lead the way to a clean energy transition." Waleah Johns, Director of the U.S. Department of Energy (DOE) Office of Indian Energy Policy and Programs
Last week, the Tribal Solar Accelerator Fund team, Tribal Energy Innovator fellows and GRID Alternatives board member Pilar Thomas attended the Tribal Clean Energy Summit; a nation-to-nation roundtable discussion between tribal leaders, Secretary Granholm, and U.S. Department of Energy (DOE) senior leadership, to explore how tribes can harness clean energy to enhance energy sovereignty, address climate resilience, and build stronger economies. 
This gathering came at an important time, with the recent passage of the Inflation Reduction Act (IRA), and the billions of dollars in programs and incentives that will be directly available to Tribal governments and nonprofits to support clean energy initiatives and technologies. The historic investments of the IRA will allow programs like the Tribal Solar Accelerator Fund and GRID's Tribal Program to support renewable energy in communities and with tribes with whom we've already built over 10 MW of solar energy, and awarded over 14 million dollars to support renewable energy projects.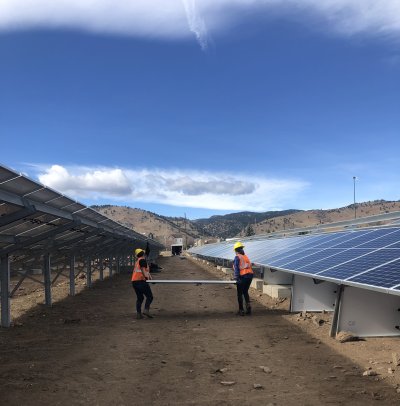 GRID also recognizes the value of providing accessible information, including technical assistance to identify programs and incentives and processes to take advantage of them. We know capacity can be one of the biggest barriers to accessing these programs, and our teams are working to put together resources to make available to our clients, partners and the broader community. Simultaneously, we will be continuing to advocate for additional funding for technical assistance to support implementation, at all levels of government.
Tribal Nations have always lived with the earth harmoniously. Every day, but especially on Indigenous Peoples' Day, we reflect on the important role that Tribes have in protecting the land and environment. GRID applauds the leadership of the many indigenous leaders, including our own staff, who champion a just future for the seventh generation. 
"In Indian Country, we have always lived and live everyday as 574 sovereign tribal nations with unique languages, cultures, lifeways, and we all share the concept of "we are all related", not just humans but we believe in the relationship between all living things. Food, energy, and water resources are connected with environmental and economic security although tribes may differ in cultural and place-based contexts; we have an interdependent relationship with the environment. The future of renewable energy development in tribal communities is essential and imminent to a tribe's ability to become energy resilient and energy sovereign, which is why the Tribal Solar Accelerator Fund works everyday to support tribal communities' renewable energy goals." - Tanksi Clairmont, Managing Director of the Tribal Solar Accelerator Fund
Resources:
White House Fact Sheet on Tribal programs in IRA
Senate Committee on Indian Affairs Fact Sheet
Just Solutions Collective: Analysis of IRA