Nestled in Northern New Mexico at the foothills of the snow-capped Sangre de Cristo ("Blood of Christ") Mountains is the traditional Pueblo of Tesuque. The name is a Spanish variation of the Tewa name meaning "village of the narrow place of the cottonwood trees," or Te Tesugeh Oweengeh. Tesuque's central plaza has been a site for dances and ceremonies since 1200 AD, and its importance to US culture is recognized in the National Register of Historic Places. The Tesuque Pueblo is home to 450 Tesuque Indians, and is characterized by traditional adobe-style houses, dirt roads, and dry river beds.
The Pueblo is served by the Northern Pueblos Housing Authority (NPHA) which is exploring solar PV as a means to bring clean, renewable energy to Tesuque in order to offset electricity bills. In addition to lower electricity bills, NPHA and Tesuque would like to provide job training and opportunities to Pueblo citizens interested in pursuing a career in the solar industry.
In early January 2017, GRID Alternatives completed construction of a 6.36kW ground-mount solar PV system at Robert and Sue Dorame's home as part of a demonstration project in partnership with NPHA that is supported by a grant from All Points North Foundation, a small private foundation based in Boston. The project is the first of its kind for the community, and it is hoped the project will spur more solar projects with the Pueblo.
Mr. and Mrs. Dorame both grew up in Tesuque and attended Te Tsu Geh Oweenge Day School together. After high school, they both made their way to Oakland, California. Mrs. Dorame was enrolled in a business school, and Mr. Dorame began learning "auto stuff" before he was drafted for Vietnam. In 1970, they both returned to Tesuque and married in May the following year.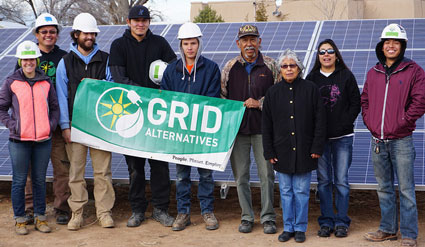 Mrs. Dorame said that in the past she did not know much about solar or think that it would really help with her electricity bill, but she came across a booklet on energy that opened her eyes. She had been thinking about installing a small wind turbine on their property, but an advertisement in the NPHA newsletter introduced the opportunity to get a solar system on her home, and she was immediately interested. The system is expected to meet almost half of their electricity needs.
For the Dorames, the project was about more than lowering electricity bills. Seeing the work done by a crew of young Native Americans, all of them participants in GRID's SolarCorps fellowship program, was particularly exciting. "I think it's very good for the young people to learn what needs to be done in the future and to see them going out and learning about solar," said Mrs. Dorame. "And it's young Indian people, Native Americans, they're the ones trying to do something here."
The Dorames have three daughters, and their house is a constant mix of people, laughter, and so much good food. Tanya, their middle daughter, helped a great deal with the installation. She expressed excitement and hope for broader impact of this first project in her pueblo. "I hope we can get other tribal members to do solar," she said. "Solar is the way to go now. I think if we can get the whole community involved it will be really great."
As the project came to a close, the installation crew and the Dorames got together in an informal circle to talk about the experience. Mrs. Dorame summed it up best: "As long as there's the sun, we can use it, and if the sun can give us energy, we can use it, and I feel good about the whole project."
See more photos from the project here!