GRID Alternatives' Tribal Program and Ecological Action, a student-created nonprofit from Cherry Creek High School in Denver, Colorado, installed solar at Pine Ridge Reservation in South Dakota, serving two veterans.
The GRID team partnered with the Oglala Lakota Sioux Housing (OSLH) and Vince Martin Chief Operating Officer of OSLH to develop solar energy systems for the two homes, provided by the Department of Housing and Urban Development through OSLH and HUD-Veterans Affairs Supportive Housing (HUD-VASH). This program offers housing and support to homeless veterans.
Partnering with OSLH for a second straight year, GRID provided valuable hands-on training for two OSLH employees and members of the Oglala Lakota Sioux tribe. "We have an unemployment rate of around 80% on this reservation, and any job training and technical assistance that is provided goes a long way," said Martin. These projects create job training opportunities and help drastically reduce energy costs for veterans who not only chose to serve their country, but continue to serve their community today.
Alvina White Bull, whose home received solar power, is an Army veteran who works tirelessly every day to take care of her family and to make sure that ends meet. White Bull says, "Everything here is electric, so I think that [solar] will help me save money."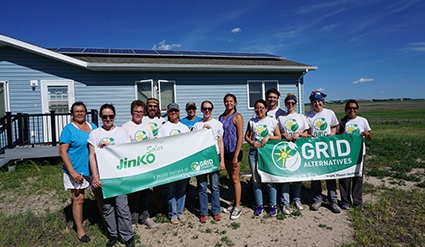 Shawnee Red Bear dedicated her early twenties to serving in the United States Marine Corps. Now back home in Pine Ridge, Red Bear continues to serve as the Veterans Service Officer for the ten thousand veterans who live on the reservation. Vanessa Red Cloud, Shawnee's mother, was thankful for the efforts of everyone involved with the install. "It just makes me feel good to know that there are people who care," she remarked.
Both of these incredible women dedicated their lives to fighting for their country. Now back on the reservation on which they were raised, they continue to dedicate their time and energy to helping others. The impact that these women have on their community is boundless. With the reduced financial stress of another bill, they can continue to be force of positive change on Pine Ridge.
Special thanks to equipment partners Enphase Energy and Jinko Solar, whose equipment donations helped make these projects possible.