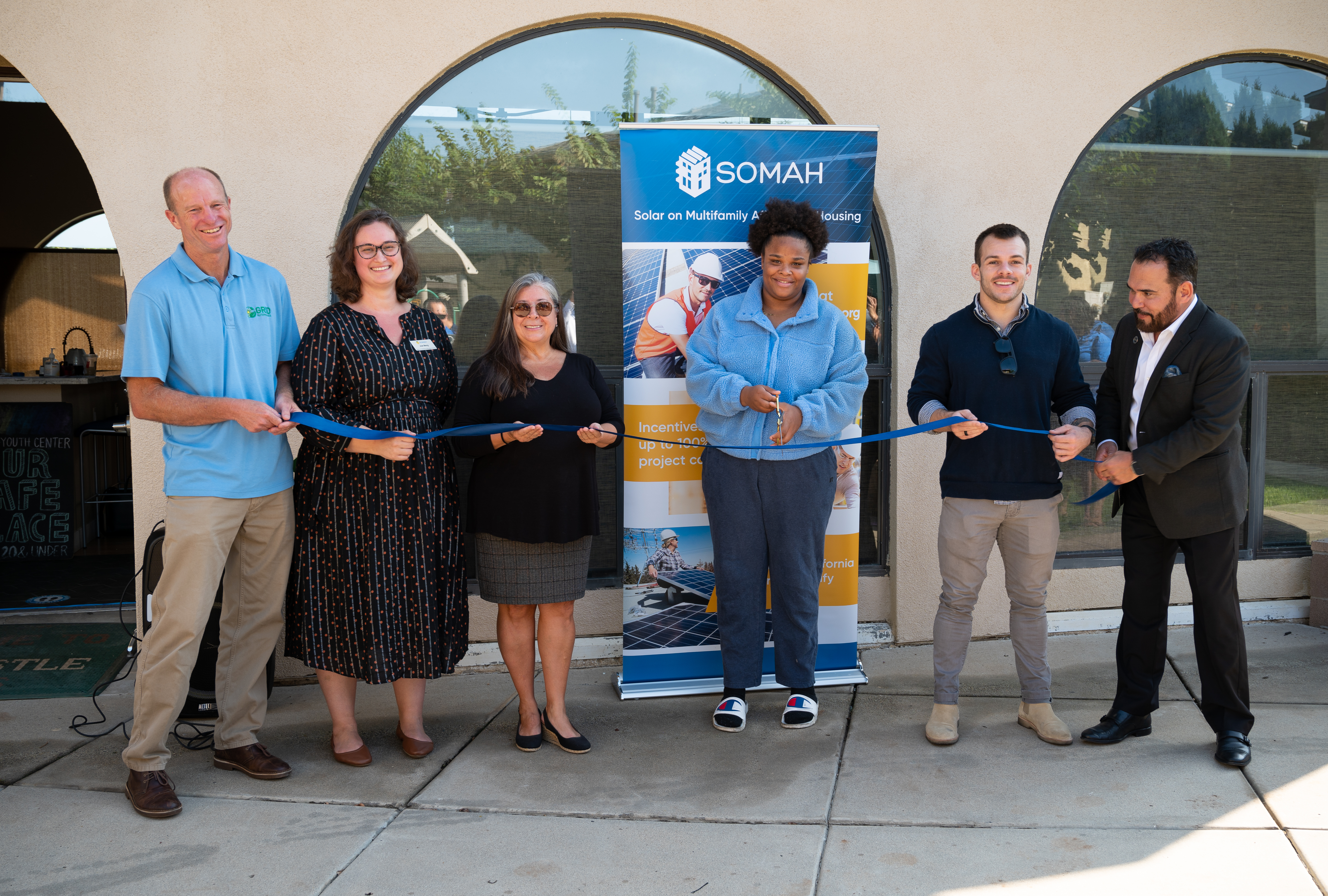 When Marie Scales turned 18, her foster parents told her it was time to move out. But, with no support system, Marie knew she had to figure out a plan quickly. 
"When I heard about [Trolley Trestle], it was good. To be honest, I don't know where I'd be [without them]. I'd probably be on the street," Marie said. 
Since 1998, Trolley Trestle in Chula Vista, California, has offered affordable transitional housing for former foster youth and homeless youth while they finish school or complete job training. In addition, they welcome emancipated youth ages 16-24 and young adults with their children. Trolley Trestle is a part of SBCS (formerly South Bay Community Services), a social services organization that supports children, youth, and families throughout San Diego County. 
With their newly installed solar project, Trolley Trestle is running on clean, renewable energy that provides direct benefits from energy savings. According to Mauricio Torre, SBCS vice president of Program Operations, the solar project will redirect more than $60,000 in electricity utility costs annually to Trolley Trestle programs and services.
"Over ten years, we're looking at an excess of $600,000 savings," Torre said. "For a community services nonprofit, that amount really makes an impact because we don't have to write grants for it and can plan for the funding to come in on a regular basis."
With over 15 years of expertise in providing solutions to help low-income communities go solar, GRID was able to offset 70% of the cost of going solar for Trolley Trestle and leverage additional funding from BQuest Foundation to make going solar a reality for residents like Marie Scales, Trolley Trestle's 25.6-kilowatt solar installation serves ten living units and various common areas. Solar projects installed by GRID Alternatives in environmental justice communities show how renewable energy can improve the lives and operations of organizations and individuals working towards a better future. 
With better-funded programs and services from clean energy savings, residents like Marie can continue to dream big in a safe, stable environment. 
"In five years, I see myself doing a lot of stuff. I want to be a chef, a vet, a cosmetologist, a coroner," said Marie. "I want to do so much stuff." 
Solar projects have the power to support local economies and promote energy independence, all while combating the climate crisis. Solar projects installed by GRID Alternatives using SOMAH funds can help bridge the gap between underserved communities and renewable energy technology. 
GRID continues to connect mission-driven organizations like Trolley Trestle with clean energy tools that maximize benefits for underserved communities, including integrating workforce development opportunities. 
"The advice I would give other organizations would be first and foremost, to do the math. I think once you pencil out the investment and the return on that investment, adding solar really becomes a no-brainer." said Mauricio.
Check out this video to learn more about Trolley Trestle!