Zoom fatigue was at an all time high, but our Tribal Program's first online Solar 101 training did not fail to make a positive impact.
In early September, the Tribal Program selected 16 trainees from 140 applicants to participate in a unique online Solar 101 and OSHA-10 Construction Safety training. The participants were from Indigenous Nations across the country. They ranged from students to retirees to folx looking to make a career change. Seven states and at least nine Tribal Nations were represented.
The training was available to participants through both live sessions with Tribal Program staff recorded courses developed by GRID's North Valley Office to deploy their "IBT 200" program or 200 hours of Installation Basics Training. Trainees were able to complete the modules at their own pace as necessitated by spotty wifi connections or access to appropriate technology.
The online training was a new arena for Tribal Program. Despite the degree of separation inherent in online meetings, the cohort was still able to learn and demonstrate understanding of basic systems sizing, solar policy, energy efficiency, and net metering.
The training also covered career pathways in solar; trainees were encouraged to re-write resumes and cover letters to incorporate new skills learned during the training.
Additionally, GRID Tribal offered an online OSHA-10 construction safety course. Trainees were able to attend live training with Micheal Dela Pena, GRID's Construction Training Manager. The training was highly transferable for trainees who would go on to work in construction and who are looking for opportunities in solar.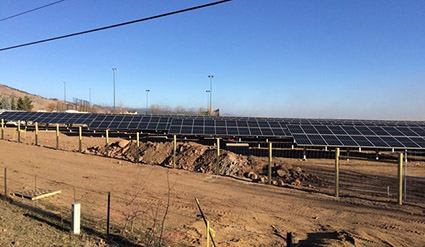 Nolan Michel of the Salish Kootenai tribe in Montana plans to put the skills he learned during the training to use. He established a group within his tribal organization to pursue more opportunities in solar.
"I developed basic solar skills such as operations and maintenance, electricity basics, how to install an array module and system sizing along with how to be safe on the job. All of these skills are in high demand within our tribe, I plan on putting all of them to use on future solar projects both on and off the reservation," said Nolan.
Each trainee shared Nolan's motivation. They saw the opportunity not only as a personal investment in their career goals but also as an investment in their respective communities. Trainees unanimously desired to take what they learned about solar and integrate it into their communities.
"I would love to continue to learn about solar and integrate a renewable energy project design in my own community as we do not have an overall solar project on our rancheria and it is desperately needed," said Saundra Mitrovitch.
Support for this training was provided by a grant from the Department of Energy through the Solar Energy Technologies Office in partnership with Blue Lake Rancheria. Through this grant, the Tribal Program will offer four additional paid training opportunities to Tribal members in the United States over the next two years.