Volunteers of America (VOA), founded in 1896, is one of the country's largest nonprofit providers of affordable housing. Offering services such as senior housing, veterans housing, family housing, and person with disabilities housing, VOA's network includes approximately 19,500 affordable housing units, housing more than 25,000 people annually. VOA's services extend beyond housing to include other services such as nursing care and guidance for first-time home buyers. Their vision, which includes helping communities live with "social, emotional and physical well-being" as well as "justice and hope", is why GRID Alternatives has enthusiastically partnered with VOA. GRID's HQ Commercial and Multi-Family Team has recently installed solar onto three VOA properties: Rolling Oaks Apartments, Valley Oaks Apartments, and East Cliff Village.
Rolling Oaks Apartments, located in Rocklin, California, offers 79 one-bedroom units for seniors with limited incomes and hosts an Area 4 Council on Aging sponsored senior nutrition lunch program. Volunteers of America contracted GRID Alternatives to install solar on this property in May of 2022, which our HQ commercial team secured funding for through the California Solar on Multifamily Affordable Housing (SOMAH) program and a low-cost bridge loan from Left Coast Fund - a Vanguard Charitable Donor Advised Fund. GRID's HQ design team designed a 115.9kW system that has an expected annual output of 168,100kWh. A team at our GRID North Valley office installed this project for GRID HQ. 
Valley Oaks Senior Apartments is another 60 unit senior living apartment located in Auburn, California. Once again, GRID was contracted by Volunteers of America to add solar to the property. This project was also funded through a SOMAH Rebate, another Vanguard Charitable Fund, and a VOA contribution. The final system size on this property is 58.2 kW with an expected annual output of 74,624kWh. GRID Alternatives HQ and the North Valley team partnered for this project.
East Cliff Village is the third project recently added to the VOA portfolio. This property, located near the ocean in Santa Cruz, offers 76 units for independent seniors and persons with mobility impairments. The HQ commercial project development team secured funding through a SOMAH Rebate, Vanguard Charitable Fund, and VOA contribution. The design team worked diligently to create a system with an impressive 199.2kW size and expected annual output of 255,495.00kWh. GRID Alternatives subcontracted the installation for this project.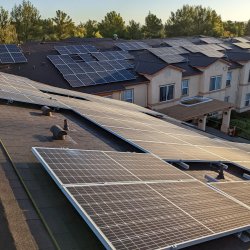 GRID Alternatives is currently finishing installing solar on the Palomar Apartments in San Diego, which is another VOA partnership. GRID is excited to continue partnering with Volunteers of America, and other mission aligned organizations addressing housing inequality.