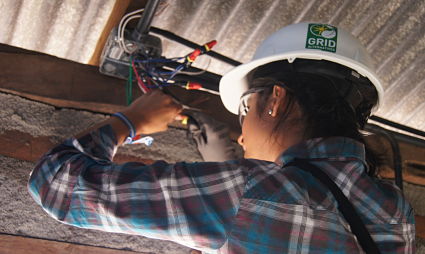 In January 2017, 10 women volunteers from Nicaragua installed a 1kW off-grid PV system on a primary school in addition to refurbishing and reactivating another system powering the local health clinic in the community of Los Encuentros, Estelí, Nicaragua. GRID Alternatives' annual Mujeres del Sol project offers a unique opportunity for Nicaraguan women interested in joining the renewable energy industry to participate in a project to gain hands-on experience installing solar. In Nicaragua, although there are several universities with renewable energy programs, opportunities to actually participate in a hands-on installation are scarce. The annual Mujeres del Sol project is a part of GRID's Women in Solar initiative across the whole organization with the goal of bringing more women into the solar industry.
The community we worked with on this project is called Los Encuentros, because it is a point where many rivers meet. There are a total of 56 homes in the community, which do have access to potable water but lack access to electricity. There is no local public transport system, which makes accessing the community difficult, especially during the rainy season when the level of the rivers rise. Agriculture is the main source of income in the community of Los Encuentros. Most families cultivate wheat, corn, beans, and watermelon, and some families raise livestock on a small scale.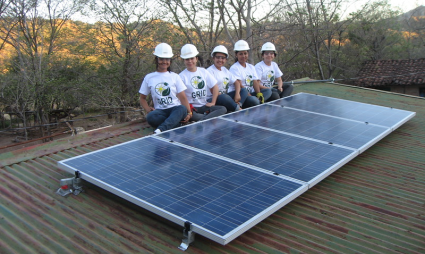 There is one school in Los Encuentros, which serves as both the primary and secondary school. There are 4 teachers that instruct 23 primary students and 25 secondary students. Electricity at the school enables the teachers and residents to charge their cell phones, plug in small appliances, and utilize new learning resources. Classes can be offered in the evenings at a convenient time for working adults and the teachers will be able to plan their lessons at night without having to commute into town to use electricity.

The community also has a local health clinic that provides health services to over 250 per month, many of whom walk from surrounding communities to receive care. There is one full-time nurse that staffs the clinic and one doctor who visits once per week on average to provide more advanced care. In case of serious complications, patients are referred to the nearest hospital in the cities of Limay or Estelí. Having access to electricity and AC power through solar enables the use of nebulizers, vaccine refrigerators, medical devices, and lights to improve the quality of care and medical services residents are able to receive.
GRID Alternatives selected 10 Nicaraguan women that applied to participate in the PV installation:
GRID covered all costs for the women volunteers to participate, including accommodations, meals, and transportation

The project took place from January 15-21, 2017

Prior solar or renewable energy experience was not required