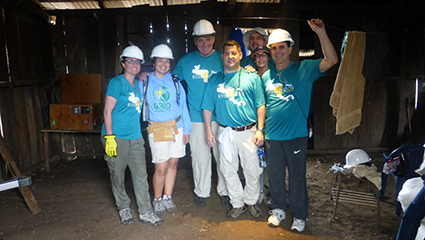 In March 2015, GRID Alternatives led a private group of 36 volunteers to Nicaragua to install 40 off-grid solar homes systems in the community of Potrero del Platanal ("Plantain Corral"), Boaco, Nicaragua. The community of Platanal has approximately 285 inhabitants living with no access to conventional grid electricity. Volunteers hiked nearly a mile up a hillside to work in Platanal, a well-organized community that is tucked away within the mountainous landscape of San Lorenzo, Boaco. The project was sponsored by Viridian, a renewable energy company based in Connecticut and volunteers included members of the Viridian's executive team as well as Viridian Associates.
The community of Platanal lies on a high altitude plateau where the climate is cool and damp enough to grow plantains, which is how the community got its name. Community members raise livestock and grow other crops for self-consumption, such as corn, beans, and wheat. The houses in Platanal are all unique, made from locally available materials and spread apart over a 4 mile area. There is no vehicle access to Platanal, so residents must travel up and down the mountain on foot or on horseback to reach the nearest town that is about 1.5 hours away.
During the project, Platanal community members helped carry equipment and supplies for the project up and down the hills, lent horses for transportation, cooked meals for the group, fixed the road by hand, and even lent their beds to the group, demonstrating their deep commitment and enthusiasm for the project.
For three days GRID staff and volunteers worked side by side with people from Platanal and technicians from local solar company Suni Solar, to build 40 solar home systems and install them throughout the community. The off-grid PV systems consist of high-quality components designed to meet the average family's electricity needs for years to come. The battery-based systems were build inside of a wooden box and hand carried to each home. Each system includes a 235W Sharp module, donated by Tri Valley Solar Universe, a deep-cycle Trojan battery for energy storage and inverter, charge controller, over current protection and a user-friendly on/off switch and battery meter. The systems provide the families with AC power outlets so they can use regular home appliances like lamps, cell phones, TVs, computers, and fans, as well as an energy efficiency Toshiba LED light bulb in a ceiling light socket.
GRID Alternatives installed an off-grid PV system on the elementary school in Platanal in 2013 which served as the project's base during the installation, where the group charged drills, walkie-talkies and used lights at night. GRID is excited to have been a part of this life-changing project in Platanal. Check out more photos from the project here!
For an update on this project and its impacts, see our case study here.
To inquire about corporate sponsored trips, contact Maura McKnight, Corporate and Foundation Development Manager, at mmcknight@gridalternatives.org or 510-731-1321.