As you drive through the Eastern Agency of the Navajo Nation in Northwest New Mexico, you immediately take in the vastness and beauty of the landscape. Wild horses graze in fields of sagebrush, vibrant sunsets sit atop of rolling mountains, and quiet winds sweep across the land. It's truly a sight to behold.
GRID Alternatives' Tribal Program had the opportunity to partner with the Ojo Encino Chapter of the Navajo Nation to install around 100 kW-DC of solar energy on homes and Chapter buildings. A large part of the installation team was composed of local Navajo workers and students from Fort Lewis College and Navajo Technical University. The Navajo Nation has become a leader in renewable energy solutions and many enrolled tribal members are developing the skills and knowledge necessary to excel in the solar industry. Local participants knew better than anyone the unique characteristics and history of the land. It was clear that there were many stories to be told and we would like to share with you one about energy justice on tribal land.
Ojo Encino is a Chapter of the Navajo Nation located in McKinley County, New Mexico. According to the Navajo Nation's website, Ojo Encino has a population of just under 700 residents and stretches across over 50,000 Acres of land.
Through U.S. Government energy and mining policies, private energy companies have continuously extracted natural resources from Indigenous land with little to no regard for how it affects the health, culture and traditions of Indigenous people. This is apparent in the Ojo Encino Chapter, where fracking is a common practice. Fracking is the process by which natural gas is extracted from the earth through wells, where it is then put into pipelines and sent to processing plants. This process can be hazardous, leading to groundwater contamination, methane pollution, and increased health concerns in surrounding populations. Fracking often occurs on and near tribal land and its harmful impacts can disproportionally affect Indigenous Nations.
In addition to fracking wells, many Ojo Encino residents live adjacent to power lines that extend from nearby coal fired plants to larger metropolitan areas. While the power lines cut through the entirety of reservation land, many residents face significant barriers to accessing the energy generated. These barriers include higher costs of service and limited interconnection options due to remote locations. The Tribal Program had the opportunity to sit down with two of our clients from Ojo Encino and talk about their experiences seeking access to electricity.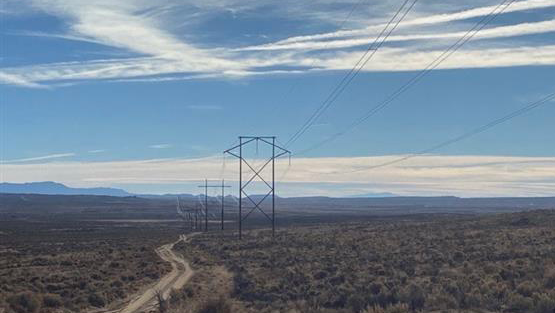 Tammy Herrera spoke with us about the obstacles she faced when attempting to get electricity despite the available power infrastructure so close to her home. Tammy was told that it would cost her $10,000 for the utility to even start looking at options. Natural gas pipelines surround her property, so utilities have always been reluctant to get involved since disturbing these pipelines can be hazardous. "It's a big hindrance to a lot of things," said Tammy. Tammy was able to get an off-grid solar system installed, which was recently refurbished by the Tribal Program. She expressed how thankful she is to have access to electricity through the solar system, and said that having refrigeration is a game changer. "The number one is refrigeration. That's the number one. Because we want to eat better and I want to grow vegetables. But you cannot [without electricity], it goes to waste."
"My normal day right now is pretty good, since GRID Alternatives blessed me with their services," Tammy says.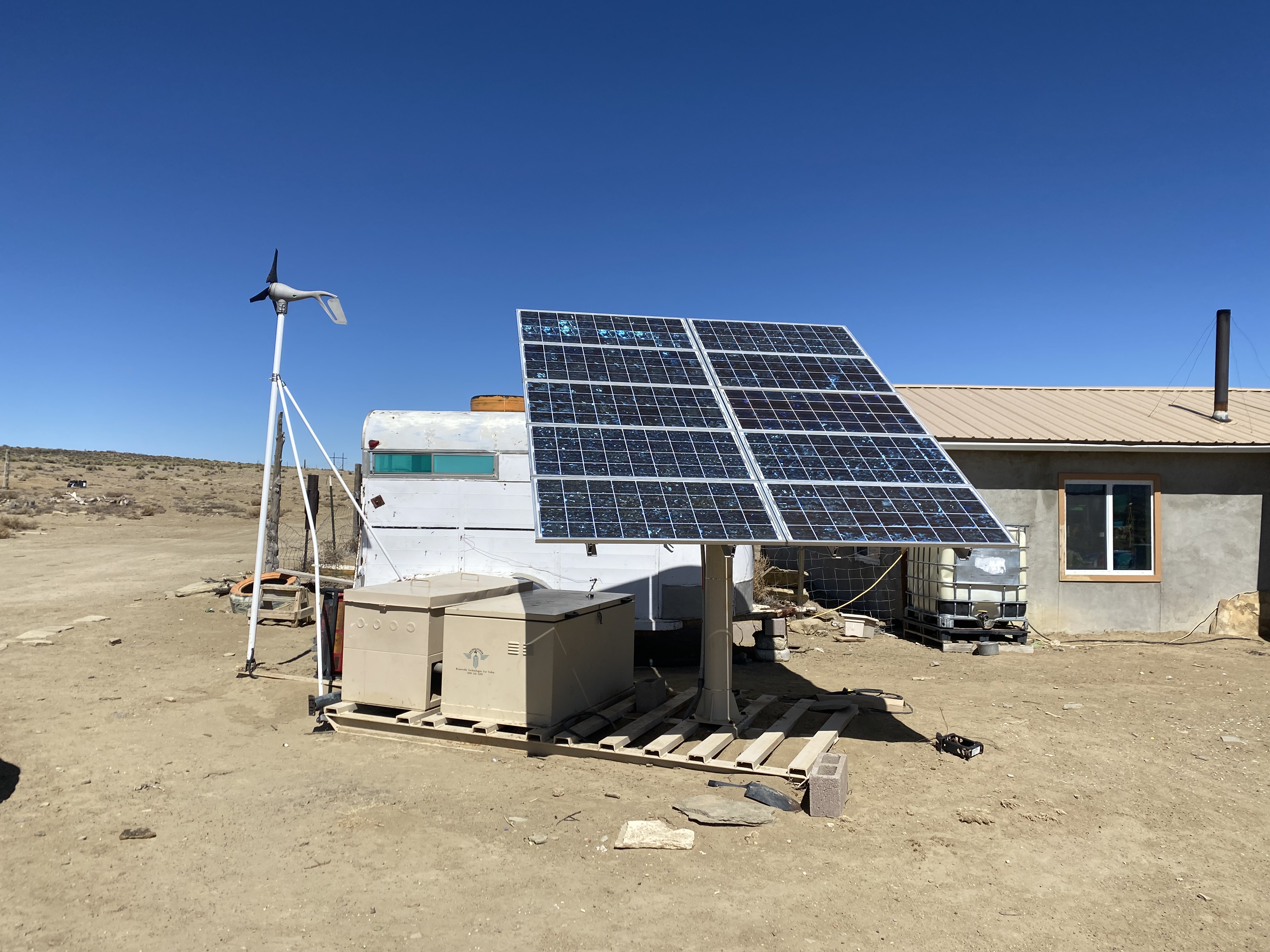 The Tribal Program also spoke with Emma Sala, another resident of Ojo Encino. Like Tammy, she gained access to electricity through an off-grid solar system. Emma spends her day herding sheep, feeding her animals, and making periodic trips to town. Right now, Emma must find creative ways to store her perishable foods. She reiterated that having access to refrigeration will make a huge difference. The Tribal Program recently refurbished her solar system and is hoping to assist Emma in obtaining an efficient refrigerator.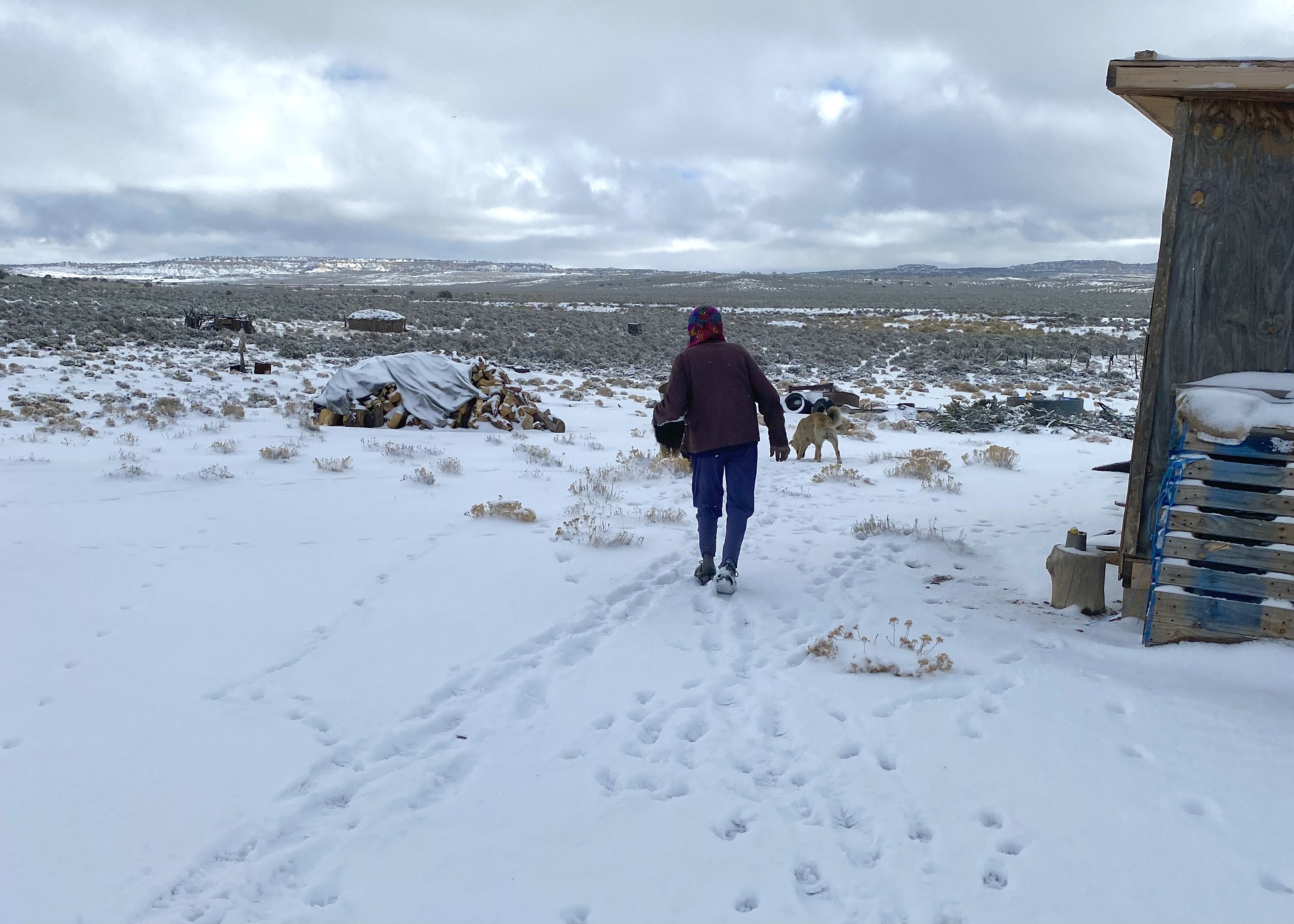 Tammy and Emma are both strong Navajo women who choose to live off their ancestral lands in a traditional way. The barriers they face to accessing electricity is a systemic issue due to failed governmental policies on many levels. It is clear that the reliance on coal, oil and gas powered electricity not only causes environmental degradation, but also results in disparities in who has access to energy. The shift away from fossil fuels and towards renewable energy generation must include everyone. It is important to amplify the voices of populations that are most impacted by the climate crisis and listen to the solutions that work best for them. Utilizing solar energy creates an opportunity for Indigenous Nations to access clean electricity and establish sovereignty over their energy resources. GRID Alternatives is grateful to work with such incredible clients and continue to learn from their stories. Through our ongoing partnerships with Indigenous Nations, we hope to continue to uplift energy justice on tribal land.
A big thank you to All Points North Foundation for their support of GRID Alternatives' work with the Navajo Nation. Because of their commitment to solar solutions, GRID can continue to provide long-term environmental and economic benefits to Tribal Nations across the United States.