Covelo, CA - As the frost rolled in over a freshly-installed 5 kW ground mount solar array on the Round Valley Indian Reservation this winter, GRID North Coast's crew was all smiles. Not only was there a new solar system (and its financial and environmental benefits!) to celebrate, the crew itself featured a GRID North Coast first: a paid tribal trainee, Brett Hayes, who joined GRID for the two-day installation.
Brett, a member of the Blackfeet Tribe, lives on the Round Valley Indian Reservation in Covelo where the installation took place. He is all about service and environmental preservation: "I believe everyone should go solar," Brett shares. "There should be solar on every rooftop. It's good for the environment and it's good for people because they get to save on their electricity bill while reducing pollution."
It was this passion that led Brett to GRID. "In a town with one grocery store, one gas station, there aren't many opportunities here. Volunteering gives people a chance to learn something that they wouldn't have without GRID." Even better than just volunteering, GRID North Coast's new short-term paid training opportunities can provide up to $300/day to qualified job seekers. The installs provide trainees a chance to gain new skills and build their resume, all while earning income.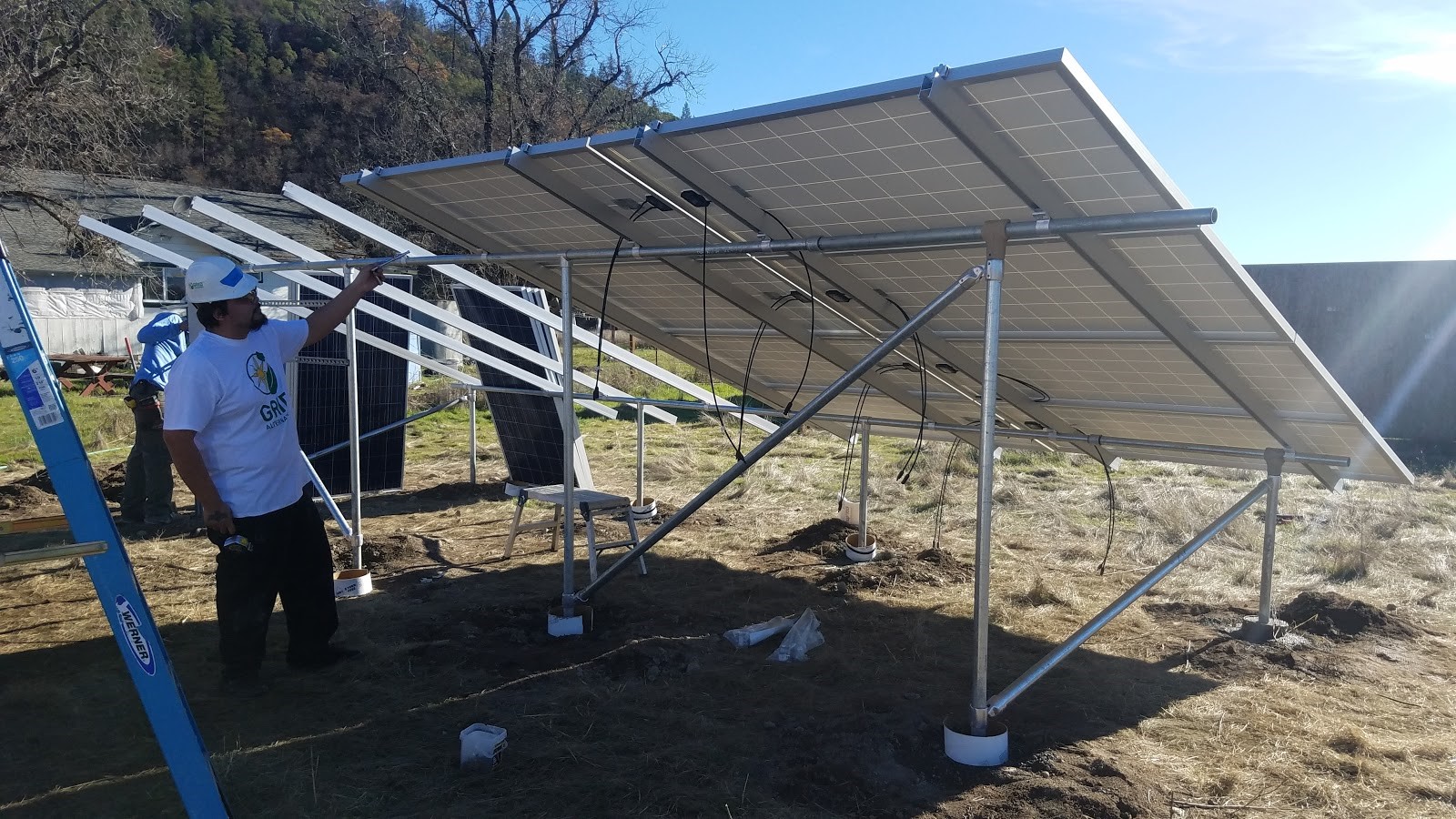 For Brett, who recently landed a position with the Round Valley Tribal Environmental Protection Agency (EPA) working on restoration and preservation projects in and around the Round Valley Reservation, his install with GRID wasn't only a needed paycheck, but also a helpful career step. "I was able to put down my volunteering experience on my resume when applying for the job with the Round Valley Tribal EPA... The install was another good resume builder for my career interests." And, Brett shared about installing in his own community , "It made me look really good... I was driving by the house the other day and I saw the array. It felt good knowing I contributed to that project."
After installing with the North Coast Construction team in December, Brett started his new job, welcomed his first daughter, moved into a new place (that has solar installed by GRID!), and used the money from volunteering to buy new clothes and an indoor swing for his baby! We're excited to see Brett again soon as he already approved future GRID volunteer opportunities with his new supervisor - now that's dedication!
To see if you qualify for our short-term paid training opportunities in the North Coast, contact Tia Tyler at ttyler@gridalternatives.org.