"My mission is to strengthen people and planet through philanthropy," says Adam Bad Wound, Vice President of Philanthropy at GRID Alternatives. Having now secured a $12 million multi-year grant from the Bezos Earth Fund to partner with tribal communities across the United States to develop their renewable energy capacity and expand solar job opportunities, Adam would seem to be living his mission.
GRID Alternatives, a national leader in providing access to clean, affordable renewable energy, has partnered with tribes since 2010, working alongside local leadership to address the unique needs of each tribal community, and increase energy resilience and sovereignty. At GRID, Adam founded the Tribal Solar Accelerator Fund (TSAF) in 2018 as a tribal-led program to deepen this work, bringing technical, financial, and cultural resources to support tribal projects and address their unique challenges and opportunities. With the Earth Fund's support, TSAF will have the essential resources to scale up its impact, reaching more tribal communities, training more individuals, cultivating local tribal leadership, and building capacity for a long-term transition to a sustainable energy future.
"We are active contributors to an energy sovereignty movement that centers local leadership, tribal ownership, and self-determination," says Adam. "Indian Country is tremendously diverse, so our projects and the people who participate in our programs bring a wealth of perspectives, local knowledge, and innovative ideas. We learn a lot from each other and non-tribal communities also benefit from our leadership in developing resilient climate solutions."
Adam's career began at Stanford at the Haas Center for Public Service, in a joint appointment with the Center on Philanthropy and Civil Society. Since then, he has worked for more than a decade in environmental nonprofits, including the California Academy of Sciences, NatureBridge, and the Wilderness Society. He holds a bachelor's degree from St. Olaf College, graduate degrees from Columbia and Stanford, and an Executive Certificate in Nonprofit Leadership from Harvard. Adam actively volunteers at Stanford where he serves on the National Advisory Board of the Haas Center for Public Service and recently completed a five-year term as a member of the Board of Directors of the Stanford Alumni Association.
This is the largest gift of Adam's 15-year career as a fundraiser. Launched in 2020, the Bezos Earth Fund is a $10 billion commitment to fund scientists, activists, NGOs, and private-sector entities that are taking critical action to combat the climate crisis, preserve and protect the natural world, and support climate justice. Adam knew that the Earth Fund was interested in supporting work within our sector, and was thrilled when they reached out to GRID for a proposal.
"My interest in energy comes from an Indigenous worldview," says Adam. "As a proud member of the Oglala Sioux Tribe, my view of our energy system is fundamentally linked to our relationship to the planet and to one another. It's not a new 'discovery' for Indigenous people to look to the sun, wind, and water as sources of energy. In this way, I see renewable energy as life— a reflection of our relationship with our Creator, our Mother Earth, and to all of our relatives."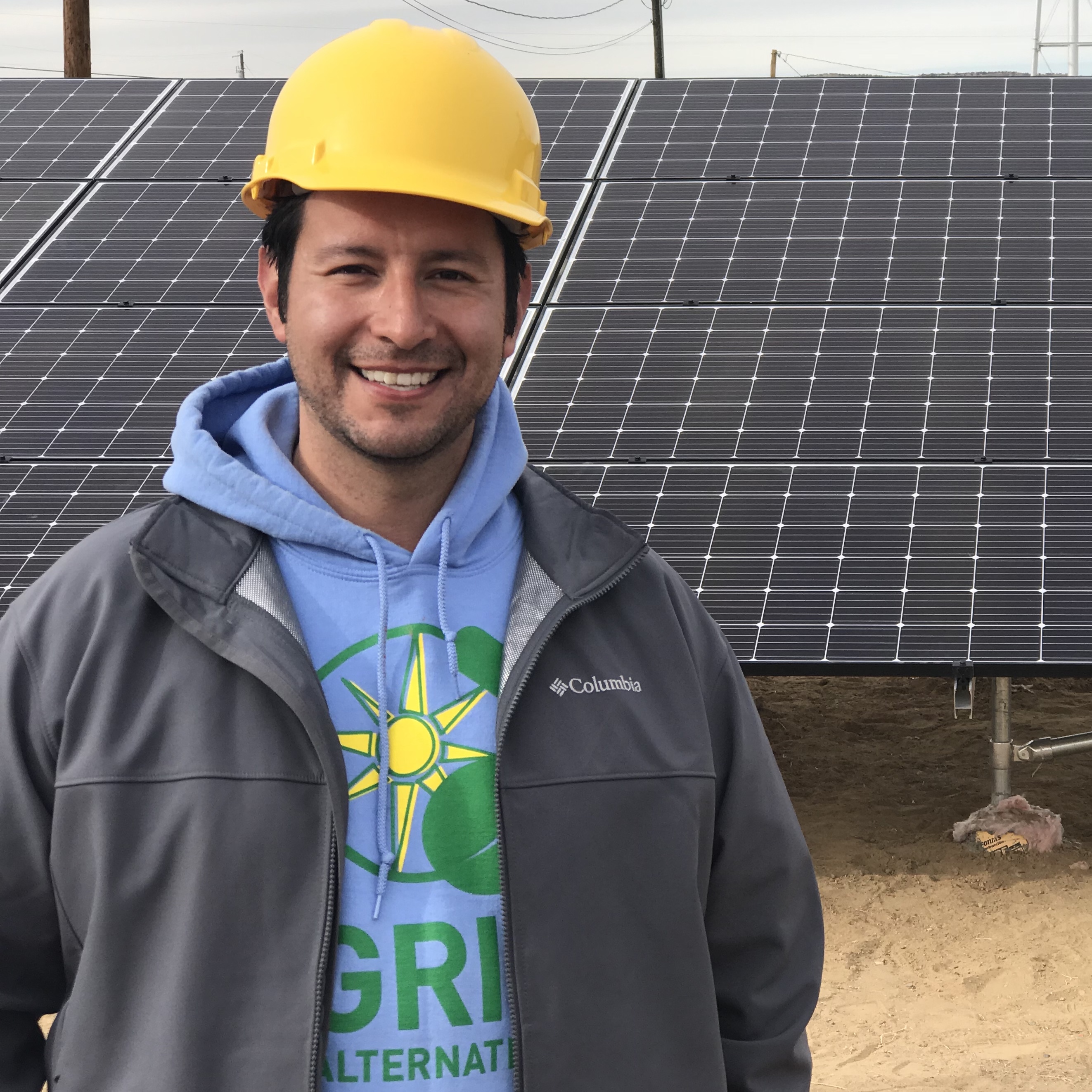 This gift from the Bezos Earth Fund is significant for so many reasons, but especially for the impact it will have on the communities GRID and the TSAF serve. In addition to scaling up its existing efforts, TSAF will expand its scope by exploring new technologies, such as clean mobility and battery storage, to advance climate resilience and energy independence and encourage a national tribal community dialogue around renewable energy that enables tribes to learn from each other. TSAF addresses the challenges that climate change presents and realizes the opportunities that renewable energy innovations bring for tribal communities nationwide.
"Tribal nations are uniquely positioned to demonstrate innovative solutions to complex problems because indigenous people bring traditional knowledge that is often absent from modern science and decision-making. And tribal cultures are storytellers! With these projects and programs, TSAF will tell the story of energy sovereignty and I am honored to work with Indigenous leaders from across Indian Country to build a vision of an energy sovereign future that strengthens us as relatives and respects Mother Earth."