Lavender Courtyard is making history in California; not only is it the North Valley's first LGBTQ+-welcoming affordable senior housing community, it's also the first community center of its kind to be powered by the sun. This past month, GRID Alternatives partnered with NeighborWorks Network Organization Mutual Housing to install a 36.7 KW solar system on the building's rooftop. The solar system will benefit the developer and 53 senior tenants by providing electricity for the common areas of the community, cost savings, and reducing pollution.
Located in the Lavender Heights neighborhood in midtown Sacramento, in what is known as the heart of Sacramento's LGBTQ+ community, this project was a dream that spanned over ten years for Jim Joseph. Joseph, a member of the West Sacramento Commission on Active Aging, saw a gap in living options for LGBTQ seniors in the city, and began advocating for a space for community members to live and have access to support.
Studies show that lesbian, gay, bisexual, transgender, and queer seniors experience discrimination in health and social service delivery and in housing. LGBTQ+ seniors frequently report being victimized by staff and residents of senior facilities. Upon moving into traditional senior communities, many LGBTQ+ elders feel compelled to go back into the closet after years or decades of being able to live their truth. 
"Because GRID believes in the mission of this community and the mission of our partner, Mutual Housing, we wanted to install a system that would offset common area usage in order to save Mutual Housing some much needed funds that could be put toward other programming at the community." says Shyla Black, a Policy and Business Development Program Coordinator at GRID. 
"LGBTQ+ Seniors have long been marginalized. This community will offer services and an environment that can allow the specific needs of this community to be valued, heard, and supported. We must recognize the diverse needs of groups and individuals who have previously been marginalized, ignored, and underrepresented in order to move forward equitably."
Daniel Rangel, a SolarCorps construction fellow, was a part of the team that worked on the install. He shares, "It's important to me to give back to the community. It's especially important to provide renewable energy to marginalized communities. Putting up as much solar as possible is how I give back, and it felt really good to be able to work on this for the LGBTQ+ senior community in Sacramento."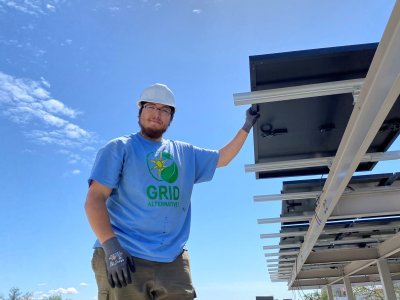 GRID is excited to be part of the community that envisions projects which achieve multiple benefits for people and the planet. At GRID, we envision a rapid, equitable transition to a world powered by renewable energy that benefits everyone. We understand the value of community, and support the many different communities we work in and with. We know that access to services like the ones provided at Lavender Courtyard are inextricably linked to just outcomes, physical and emotional safety, and the overall wellbeing for all. Join us in celebrating and supporting our LGBTQ+ communities today and everyday.