It's a brisk October morning in Rosebud, South Dakota. The sun rises over tiny pastel-colored homes that dot the rolling sandhills. Boarded-up windows and weather-damaged roofs stand out against the otherwise well-kept homes -- a testament to the challenging times that this town has endured.
The counties that the Rosebud Sioux reservation encompasses are among the poorest in the nation, with unemployment rates as high as 83 percent, and as much as three quarters of the employed population still living under the poverty line. Winter is always the worst, with frigid temperatures, ice and snow limiting already-scarce work opportunities, and sending electricity bills skyrocketing. This year, though, a beacon of hope for some relief is taking shape in the form of a solar array on the home of tribal member Karen Spotted Tail.
For the fourth and final installation of GRID Alternatives' Tribal Solarthon, we joined last week with Rosebud Sioux members, students from local Sinte Gleska University, and other community members to put solar panels on the roof of Ms. Spotted Tail's home. This 2.2-kilowatt solar installation is only the third one on the Rosebud Sioux reservation, but it marks a new effort by the community to improve its energy--and economic--outlook.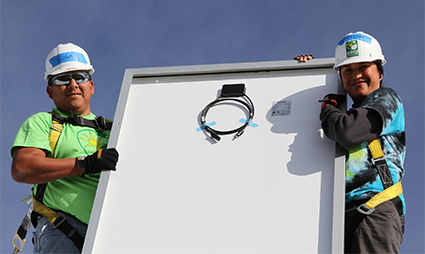 "This is really exciting for us," said Ms. Spotted Tail, whose husband and nephew took part in the installation. "It seems our electricity rates have been increasing every year, so the solar will really help us out a lot. We're looking forward to saving the money."
Ken Haukaas, a consultant for the Rosebud Sioux Tribal Utility Commission, told us that members can pay up to one-third of their annual income on utilities. "Our people are having a hard time paying their electricity bills, and being shut off in the middle of winter is not a good thing. You can't keep a house warm up here unless you have electricity."
In recent years, the Tribe has relied heavily on federal funds to help pay families' electricity bills in the winter months. In 2013-2014 it received $965,000 in federal funds through the Low Income Home Energy Assistance Program (LIHEAP) and internally raised the remaining $2 million needed to meet the needs of the Tribe. "There are 3,500 homes on the reservation," said Mr. Haukaas "and we served 2,500 of them to help pay their bills, because they were making the choice between feeding themselves and keeping themselves warm."
And while the money from the LIHEAP program is quite literally lifesaving, the funds are limited to being used to pay energy bills. They can't be used for weatherization and energy-efficiency improvements within the home, or for solar, projects that would pay much greater dividends over the long term.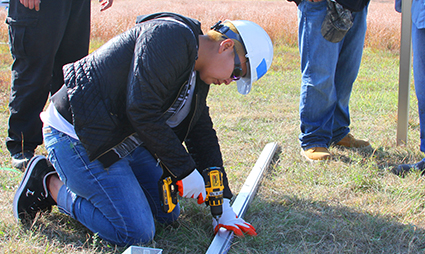 The tribe is hoping that launching its own utility will help it address some of the affordability issues--and bring in more renewables. While getting Rosebud Energy Services Co (RESCo) off the ground will be an uphill battle, the master plan includes a renewable portfolio standard (RPS) to spur more solar installations on the reservation.
The solar on Ms. Spotted Tail's home is already starting to get the community excited, not just because of the energy it will provide, but also because of the training opportunities. Seven students from Sinte Gleska University, the four-year university located in the nearby town of Mission, participated in the installation.
Doris High Elk, one of the students taking part, is enrolled in SGU's building trades program, and hopes to finish by next year. She has lived on the reservation her whole life, and with four children to support on her own, she said she was excited about the possibility of finding work installing solar panels.
"In our program, we get to go out in the field like this pretty often, but mostly we're working on porches, sheds, and other small projects," she said. "This one is cool because it's totally different."
LeAnna Long Pumpkin, Vice President of the Rosebud Sioux Tribal Energy Commission, also sees promise in the job-training aspects of solar on the reservation. "The training and education is what I like about all of this, that's my focus," she said. "Of course we want green energy, but we also want opportunity for our young people. We want them to look forward to something. I want our children to know that there are going to be these kind of jobs for them."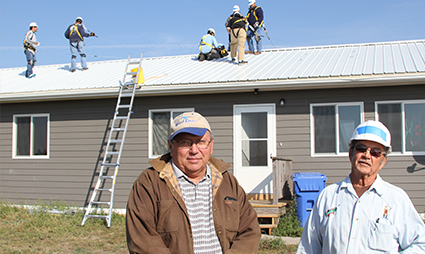 Building renewable energy and energy auditing education into the SGU construction curriculum could help improve year-round job opportunities both on and off the reservation. GRID is partnering with the Tribe to raise funds for additional installations--and more training opportunities--for tribal members.
"This is just the first of a thousand projects, if I have my way," said Mr. Haukaas. "But this is one step at a time -- we're going to try to build capacity here. About 10 people can be taught to a degree during this installation, and get them used to the idea of installing solar, see how it works, and then spread the word.
"Solar is the promise of the future, and if one young person can say 'that's cool, why can't we do that for all of our houses?' then this is a success."
Check out more photos from the event here.
****
From September 28 to October 9, GRID Alternatives partnered with four Native American tribes in four states for our Tribal Solarthon, providing solar power and solar job training to tribal residents and putting a spotlight on energy and economic issues in their communities. GRID has partnered with over 30 tribes since 2010, installing solar electric systems for more than 330 tribal member families—1.5 MW of clean power—and trained nearly 200 tribal members in solar installation. We formally launched our national tribal program in 2014 with a long-term goal of building permanent infrastructure to make solar power and job training accessible to tribal communities throughout the US.
The Solarthon event is sponsored by Wells Fargo Foundation through a five-year, $2 million national expansion grant awarded to GRID Alternatives in 2012. Additional funders include the Department of Energy and GRID Alternatives equipment partners SunEdison, SunPower Corp., Enphase Energy, SnapNrack and IronRidge.