Jalen Jacobs, a junior at H.D. Woodson Engineering Academy, was in the middle of a story Tuesday afternoon when the shrill sound of an impact driver yanking up screws cut him off.
Screws scream, so to speak, when they pass through rafters and rattle through the tight holes of metal rails that hold up solar panels. The racket is the soundtrack that accompanies the installation of solar panels on rooftops.
When GRID Alternatives Mid-Atlantic partnered with the H.D. Woodson to bring the Solar Futures program — which Jacobs and his fellow participants completed on May 21 — to the high school, the result was a live look at a solar install. Noise included.
Before he started in the program, Jacobs had moderate expectations. He thought, "Oh, man, we're gonna be in the classroom. Sitting there taking notes. Sitting there watching people put it together."
The experience ended up being more than just a lecture.
"Now that I've been through the course," Jacobs said, "we're actually being hands-on and learning how to put a solar panel on."
The four-week Solar Futures program brought many of the H.D. Woodson Engineering Academy students closer to solar than they'd ever been. The students in the program learned about solar efficiency and photovoltaic cells, safety standards and laying out solar arrays, attaching rails and connecting modules.
At the end of the program, the students' capstone presentations — each focusing on one section of the installation process — collectively described and demonstrated an install from start to finish.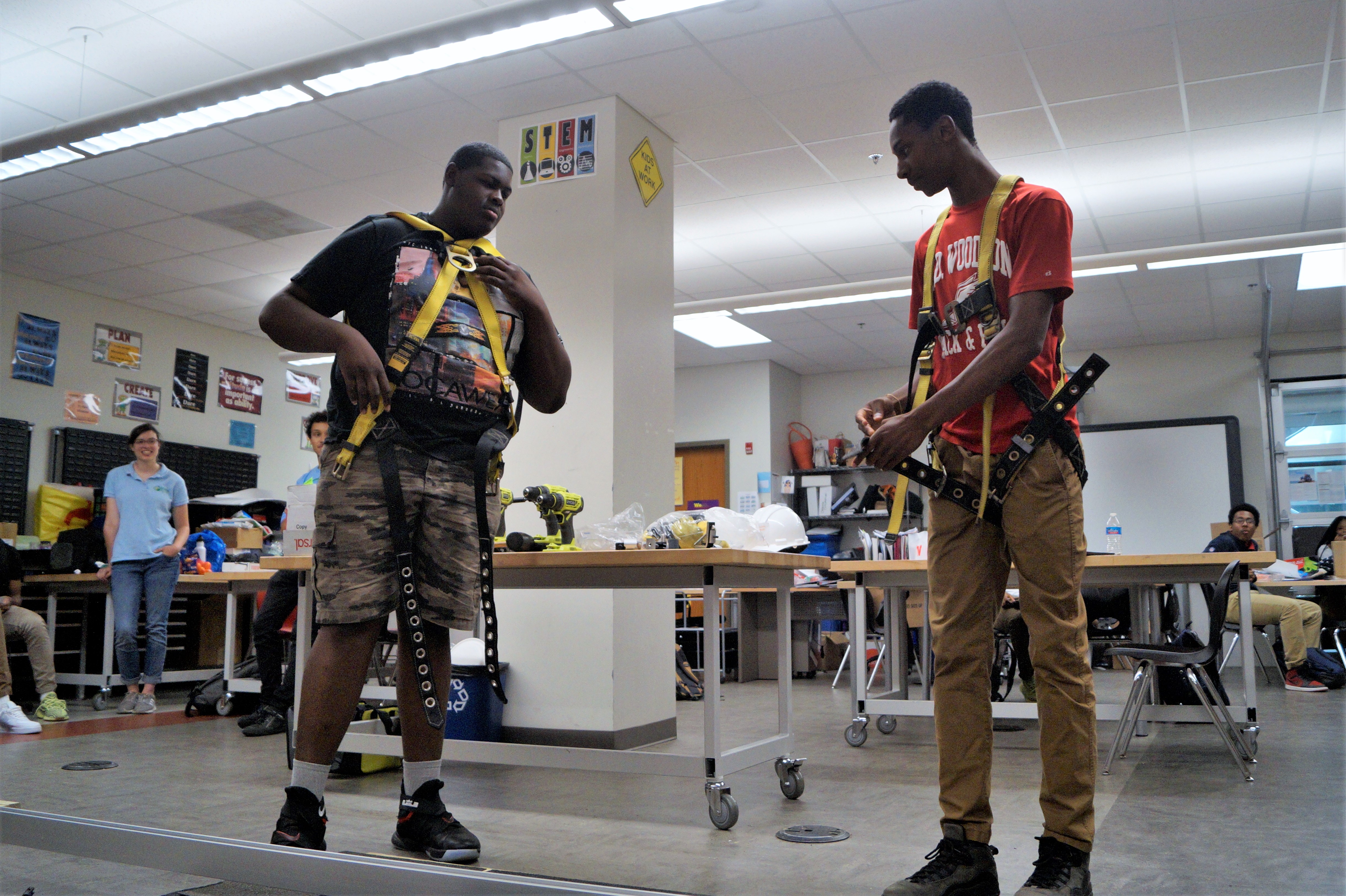 "Something I learned about solar was, ultimately, it's very complex," senior Dimant'e McLeod, another Solar Futures student, said. "But I learned a bunch about safety. I learned about how to install solar panels and roofs."
Thanks in part to Washington, D.C.'s commitment to renewable energy, most students entered the program with some exposure to solar energy and its impacts. Jacobs' grandmother has solar panels, and solar is moving into the neighborhoods in Northeast and Southeast D.C. around H.D. Woodson.
Solar is still an emerging technology, and for many students, the details of solar installation were scarce when they entered Solar Futures.
"All I really knew at first about solar panels was that they were panels that took energy from the sun and powered your house," said Kamari Felton, a senior in the program who will attend Norfolk State University next year. "But there's more in between, and it's a lot more detail, which I figured out and now know. I still have a lot to learn."
Felton had seen solar panels in his neighborhood and at school, but he didn't know anybody that utilized solar energy. He had minimal experience in construction, though he grew up tinkering with electronics — like fixing TVs, game systems, and other devices around the house — a hobby that fueled his interest in solar energy systems.
As part of his capstone presentation on the final day of the program, Felton explained the complicated route that power takes from the sun to a home. With a panel of judges serving as his audience, he expertly described the role of power optimizers, why the junction box is important, and how inverters change direct current to alternating current.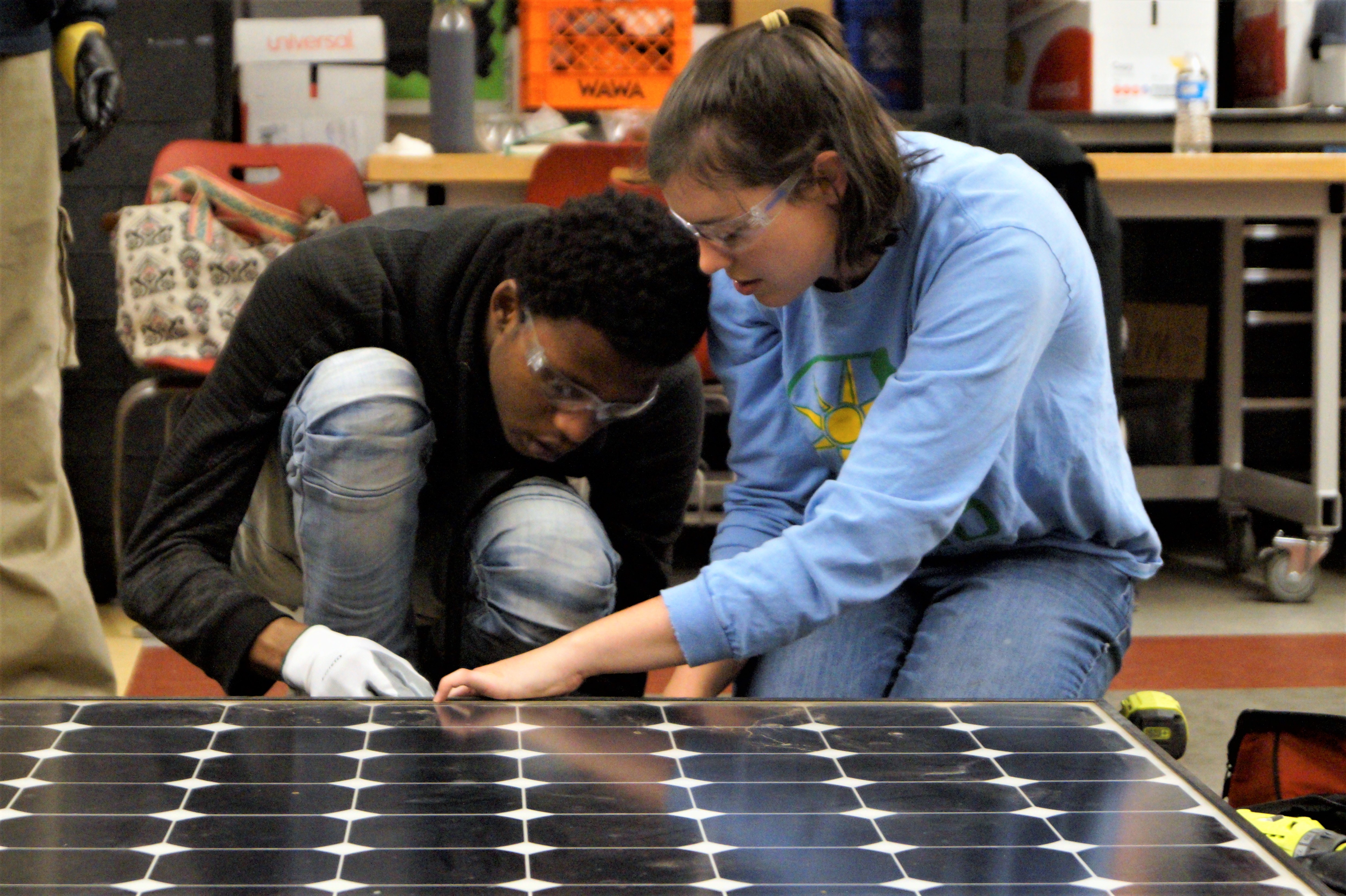 McLeod, who will play football at Lincoln University in Philadelphia next year, joined Solar Futures while enrolled in a challenging Statistics course. He wanted to ensure the class would teach him skills that would be a benefit down the road, and he wasn't disappointed.
"I was kind of skeptical at first because I was already going through a lot of stress in my courses at school," McLeod said, "but ultimately I'm happy I did sign up."
For their capstone presentation, McLeod and his partner, Tru Jackson, explained proper safety procedures by showing the proper and improper ways to use personal protective equipment. When McLeod (purposefully) put on his safety harness backwards, Jackson was there to correct him. McLeod did the same when Jackson put his gloves on the wrong hands.
One lesson that hit home for Jacobs, Felton, and McLeod was solar energy's efficiency. Utilizing solar energy can drastically reduce the amount that individuals pay on utilities every month, and its power comes from a clean, renewable source.
"It's the cleanest renewable energy," Felton said. "You also don't have to pay as much for electric cause you get it from the sun. You can't charge the sun."
The graduates of the Solar Futures program have varied skills and career goals. McLeod plans to study culinary arts at Lincoln University. Jacobs is interested in joining the Cadet Program after high school in order to become a firefighter. Felton will study public relations at Norfolk State.
Despite their diverse interests, the Solar Futures program provided pertinent information about an industry that can go a long way in solving the issues of economic and environmental stability.
"I had to chew on that thought for a while that there's going to be a (solar) company coming through," McLeod said. "I was thinking, 'How could it help me throughout the rest of my life?' I can say I know a bit about solar now. That just opened my eyes to thousands of other companies."
GRID Alternatives Mid-Atlantic is an affiliate of GRID Alternatives, a national leader in making clean, affordable solar power and solar jobs accessible to low-income communities and communities of color. GRID Alternatives began the Solar Futures program in California's Inland Empire and San Joaquin Valley, combining classroom-based sessions with real-world experience in installing solar for GRID Alternatives' income-qualified clients. The Solar Futures program in those areas is supported by SunPower. SunPower has been one of GRID's major equipment partners since 2012.