Miss Bishop Paiute, dressed in full tribal regalia, brought into focus on Tuesday the intersection of old and new, tradition and innovation as she helped celebrate a partnership that is transforming the way this remote Eastern Sierra tribal community uses—and thinks about—energy.
In a ceremony at the home of resident Rosalie Fimbres, GRID Alternatives, Tribal leaders and other community partners gathered to cut the symbolic ribbon for Ms. Fimbres' new solar electric system, the first of 22 systems to be installed on the Bishop Paiute Reservation under a U.S. Department of Energy grant. The project builds on more than 50 systems GRID Alternatives has already installed with the Tribe through California's Single Family Affordable Homes program (SASH), bringing long-term energy cost savings and hands-on job training opportunities for families and helping fulfill the Tribe's long-term vision of sustainability.
"It all started when I attended the Environmental Protection Agency Region 9 tribal conference in San Francisco in 2012," said Brian Adkins, the Tribe's environmental director. "What caught my attention with this program was that it was funded through SASH, a program designed to benefit low-income homeowners served by publically owned utilities. We have a lot of low-income families living here, and we are served entirely by Southern California Edison.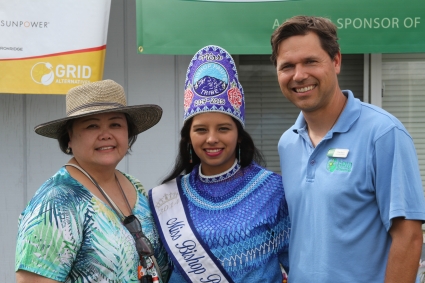 "With the climate changing, the concern about global warming," he continued, "there are limited things that the Tribe can do, and one of them is how we choose to meet our electrical needs. Looking to solar, there is a potential to make a measurable difference while helping people become more self-sufficient."
Applications were slow to come in at first, despite informational mailings and workshops to explain the program. But after the first few families signed up, others started following suit. "The community is really small," said GRID Alternatives outreach coordinator Lisa Castilone, who worked closely with Tribal staff to get the program going. "Once the word started getting out, and then people saw the job-training model, and the trainees started telling their own families and then installing on their own homes, that's when it really took off."
The first five systems were installed in 2013, when a team from GRID's Inland Empire office came and spent 10 days on the reservation, teaching a group of job trainees everything from pulling wire to laying panels. By the time they were finished, the trainees were ready to be hired by local GRID subcontractors, who would be installing most of the systems going forward. Under their agreement with GRID Alternatives, subcontractors are required to hire a job trainee for each job they do under the SASH program.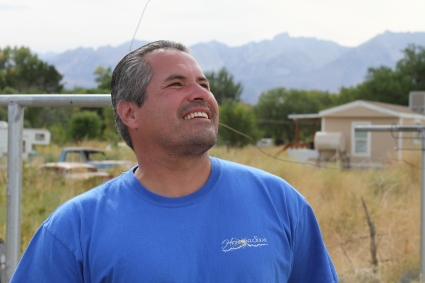 Joseph Lent was among the first group. "At the time, I didn't have a good career going for me," he recalled. "I was just trying to find what I could do, then GRID came and I got to work with them. They were really informative about every tiny little step."
Now he's working both on and off the reservation with local solar contractor Highpoint Solar. "I really enjoy working here on the reservation when we get to do the GRID jobs," he said. "When you're impacting people, it feels good."
The benefits to the community were clear. Not only were people like Joseph getting trained and hired for paid work, but families were saving big on their electricity bills. Although the Bishop Paiute do run a small casino that helps support families on the reservation, it covers only a small portion of their living expenses.
"My electric bills were very high – about $145 per month – and I am supporting three kids," said WaSuYaa West, a homeowner who received a system during the first round of projects, cutting her bills in half. "There is no way I could ever have afforded solar panels on my own."
"My grandkids have asthma, and I have developed allergies over the years," said Charlene Redner, another early client. "I really think solar power will help improve the air, making these things much better."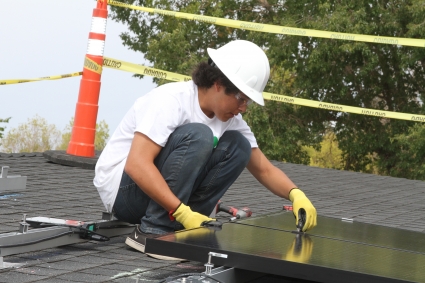 Earlier this year, however, GRID and the Tribe hit a roadblock: the original SASH program, part of the California Solar Initiative, was expiring, and just as applications were flooding in, funds for new installations were running out. There would be new funding available under a revamped SASH program created by Assembly Bill 217, but at half the previous levels, it wasn't enough.
That's when GRID and the Tribe got together to submit an application to the U.S. Department of Energy, through its Office of Energy Efficiency and Renewable Energy to provide supplemental funding for additional projects. The Office's Tribal Energy Program provides technical assistance and funding to tribes across the country, and has invested more than $48 million in 175 projects since 2002.
"We saw an opportunity for this four-way partnership between GRID Alternatives, the Bishop Paiute Tribe, the State of California through the SASH program, and the Department of Energy," said GRID Alternatives Inland Empire Regional Director Bambi Tran. "The transition to renewable energy is going to take all of us working together, and this is a great example of that."
Ms. Fimbres, who hosted Tuesday's event, is ecstatic. She works nights at the casino but still struggles to get by, and is looking forward to what solar will do for her and her two boys, ages 11 and 13. Her 3.1 kW system will save her 50-75 percent on her electric bills each month. "It's one less bill I have to worry about," she said. "It will also help the environment for my kids' future. They're going to have to live in this world. We don't want to keep destroying it."
Even with the DOE funding, significant need remains, and GRID has already had to stop taking applications. "The interest is high," said Ms. Castilone, "but after these 22 that's it unless we can get more funding. I would say there are another 200 or so homes that could benefit."
There are also families on the reservation that don't qualify for GRID's program, and the Tribe is trying to make sure they have access to solar, too. As part of Tuesday's festivities, Tribal leaders held an energy fair with representatives from local solar companies, Southern California Edison, the National Renewable Energy Laboratory (NREL), and others to offer information and resources to anyone in the Tribe that is interested.
"Sovereignty and self-sufficiency are a big thing for the Tribe, and the ability to generate our own electricity is part of that," Mr. Adkins said. "We are fortunate to live in a part of the country that has a lot of solar input, so solar energy has big potential opportunity for us."
The Tribe is also looking at other ways to make its energy use more environmentally and economically sustainable, and is meeting with advisors from NREL this week to start outlining a plan for both renewable energy deployment and conservation.
"We have been fortunate GRID has really helped with the residential side of things," said Mr. Adkins. "Now we are starting to see where there are opportunities to do more."
Check out more photos from the event here.
****
From September 28 to October 9, GRID Alternatives is partnering with four Native American tribes in four states for our Tribal Solarthon, providing solar power and solar job training to tribal residents and putting a spotlight on energy and economic issues in their communities. GRID has partnered with over 30 tribes since 2010, installing solar electric systems for more than 330 tribal member families—1.5 MW of clean power—and trained nearly 200 tribal members in solar installation. We formally launched our national tribal program in 2014 with a long-term goal of building permanent infrastructure to make solar power and job training accessible to tribal communities throughout the US.
The Solarthon event is sponsored by Wells Fargo Foundation through a five-year, $2 million national expansion grant awarded to GRID Alternatives in 2012. Additional funders include the Department of Energy and GRID Alternatives equipment partners SunEdison, SunPower Corp., Enphase Energy, SnapNrack and IronRidge.