By Elijah Perry, Executive Director, GRID Alternatives Mid-Atlantic
Juneteenth is supposed to be a celebration of freedom. A celebration which is considered to be the "Emancipation Day" for ALL African Americans in this country. The freedom from being enslaved for 246 years. But what does freedom mean in the context of the events that have spanned the last decades?
As a Black man, I'm having a hard time celebrating. We have yet to achieve true freedom.
I appreciate the symbolism of Juneteenth, and I'm glad it is being acknowledged.  But I'm not interested in empty gestures that are hyper-commercialized. 
America does not have a long history of celebrating Juneteenth. Only recently, in response to Black men and women dying at the hands of police officers, has it gained recognition nationally. 
Making Juneteenth a national holiday doesn't change the fact that tangible resources still aren't reaching Black communities.
I see the needs of the community every day as GRID Mid-Atlantic's executive director. What's needed for absolute freedom is much more than a holiday. Voting, education, and a healthy environment may be unalienable rights for some Americans, yet they seem to be privileges for folx in my community.
Let me be clear: slavery never ended; it simply evolved. There are still systems that keep Black and brown communities oppressed. We aren't free from a culture of white supremacy, which manifests itself through horrifying acts of overt racism and injustices like environmental inequality, limited access to healthcare, voter suppression, and more.
Historically racist redlining practices made landfills, hazardous waste, contaminated water, and air pollution more prevalent in Black and Hispanic communities than in white communities. As a result, the Black and Latinx communities are exposed to 50% higher rates of pollution than white communities. These environmental conditions make existing health disparities even worse. Changing policies that affect minorities requires a shift at the polls, though last year, 18 states passed 34 new laws restricting voting access—laws which almost always affect communities of color first and most.
Not to mention, recognizing Juneteenth doesn't change the fact that Black and brown people are STILL being killed by police at unacceptable rates.
While there's reason to celebrate the emancipation of all African Americans, I'd like to see acknowledgment through the provision of resources and opportunities—not just a "day off" rooted in continued broken promises. 
GRID Mid-Atlantic is located in Washington, DC, a hub for Black culture in America: home to "Black Broadway," Howard University, and go-go music. It's also a city of great wealth, yet many Black families struggle to make ends meet. 
In Wards 7 and 8, which are more than 90% Black, residents face rising housing costs, food insecurity, poor options for healthcare, and aging infrastructure—just a few examples. 
The hurdles are even steeper for young people in these communities. Our Solar Works DC* program has trained countless individuals at the beginning of their careers who lack permanent housing, who skip meals to save money, and who work doubly hard to overcome past life decisions they are eager to leave behind.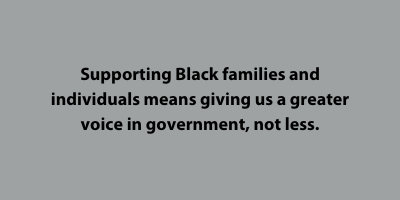 Supporting Black families and individuals means giving us a greater voice in government, not less. It means shortening voting lines in urban areas, offering more mail-in or absentee voting options, reducing voting restrictions, and ensuring every American citizen has representation. Any form of justice must include the demand for DC statehood. The lack of DC representation for its more than 700,000 residents has gone on long enough.
Young Black people need more opportunities for quality education, especially outside of college. There's a misconception that you have to attend college to be successful. Programs that take a holistic approach to workforce development can fill this need. 
Last year, Jahlil Wormley entered the Solar Works DC program as a recent high school graduate and Anacostia River Next Generation Hero awardee. At the same time, he lacked permanent housing and was recovering from gun violence.
Through sheer drive and determination, Jahlil overcame his circumstances to complete the program and build the foundation for his career. Solar Works DC's wraparound services helped him find housing, build a resume, and acquire a birth certificate. With those needs secured, the program's hands-on training component gave Jahlil the skills necessary to develop a career in solar. He's now working full-time at Tesla Energy in Prince George's County, Maryland.
Jahlil's story is an example of what empowerment, freedom, and even liberation look like. Juneteenth is more than a day off work. It should be a reminder of how history repeats itself—that Black people still aren't free and are still fighting for true freedom today. The power to effect change is in our hands and our votes.
---
 Support the cause of environmental justice. Donate to GRID Alternatives Mid-Atlantic today!
*Solar Works DC is part of the Solar For All program. Solar for All, a program of the District of Columbia's Department of Energy and Environment, seeks to provide the benefits of solar electricity to 100,000 low-income households and reduce their energy bills by 50% by 2032. The program, which was established by the Renewable Portfolio Standard (RPS) Expansion Amendment Act of 2016, is funded by the Renewable Energy Development Fund (REDF).