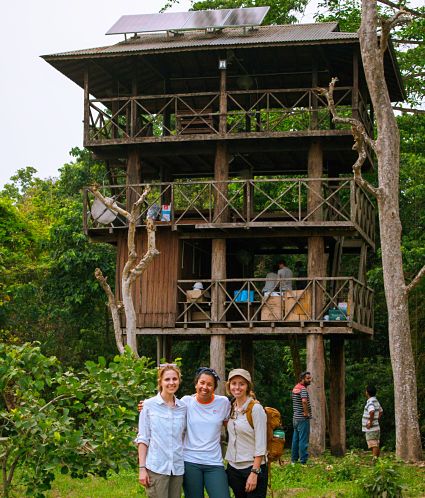 In April 2018, international participants traveled with GRID for a journey focused on conservation and women's empowerment to bring solar power to a wildlife observation tower in Nepal's Chitwan National Park. Chitwan is Nepal's first National Park, a refuge to the Bengal Tiger and home to one of the last populations of single-horned Asiatic rhinoceros, among many other species. GRID participants and Nepali solar company Gham Power installed a 1.2kW solar system to provide clean, reliable electricity to the off-grid tower in the jungle's "buffer zone". The tower is now equipped with AC power outlets, lights, external flood lights for security, and fans. 
The "buffer zone" is a mile-wide stretch of land along the circumference of the national park, which is half pristine jungle and half human settlement. There are 11 of these off-grid towers total throughout the buffer zone. Electricity transforms the towers into safe places for tourists to observe the wildlife the park protects and stay overnight for a fee. The towers create job opportunities for local residents who support this eco-tourism operation. Income from the towers is managed by the Mrigakunja Bufferzone Committee, a committee of local residents that are dedicated to wildlife and resource conservation, habitat restoration, women's empowerment initiatives, livelihood training workshops, and education programs. 
This project was made possible in part by support from Empowered By Light, a non-profit organization whose goal is to improve the lives and environments of communities through clean energy projects that demonstrate the importance, feasibility, and sustainability of rural electrification. This is a collaboration to protect critically endangered species and their habitat, empower women, and bring the catalyst of renewable energy to communities in the buffer zone.
Click here to see photos from this project!