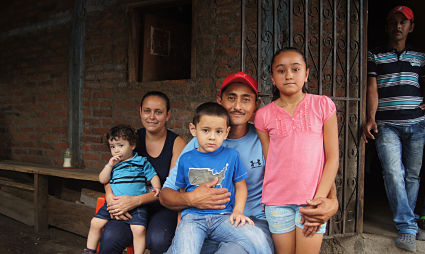 In February 2018, 10 participants joined GRID in Nicaragua for a journey to install a solar-powered drip irrigation system on the small farm of Freddy and Maria Luisa Cruz in the rural community of La Rinconada, Jinotega. Working alongside the family and GRID staff, the participants installed a system that utilizes a solar-powered water pump to move water from a water source into an elevated tank, and then distributes the water through a network of irrigation tubing to the farmland through gravity drip by drip. The installation activities included mounting solar panels to power a water pump, connecting the pump, preparing the water storage tank, digging trenches for the irrigation tubes, and wiring the load controller. 
Small farmers in Nicaragua face a number of challenges. Many farmers rely on diesel-powered or gasoline-powered motors to pump water to their crops, which is very costly, polluting, and time consuming for the farmer to travel to obtain fuel. Those who cannot afford a generator, irrigate their crops by hauling water in buckets by hand from a well or nearby river. In both cases, watering crops in the dry season is difficult due to the hot climate and lack of water accessibility, limiting the farmer's annual yield.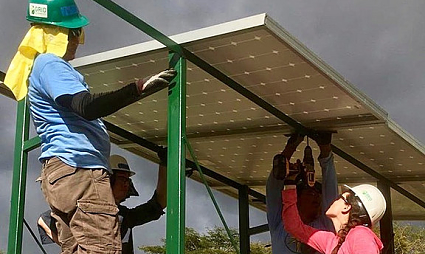 Connecting to grid electricity is often too expensive and unreliable for rural farmers. These challenges have been magnified in the face of a severe multi-year drought. By using solar-powered drip irrigation systems, farmers can save money, use water more efficiently, increase crop yields, reduce local pollution, add more locally grown produce to the market, improve the quality of their lives by having more disposable income to send their children to school, make improvements to their home, and get their crops to the local market faster.
The drip irrigation system provides water for fruit and vegetable crops to help improve the lives of Freddy and Maria Luisa and their family by increasing crop production, saving time, and increasing income.
Click here to see more photos from this project.