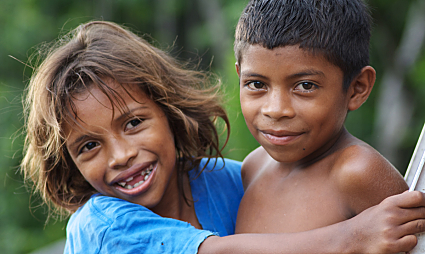 [SOLD OUT] This trip is full. We still have space available on our October and November 2017 volunteer trips and would love to have you join! 
Take a trip that will transform a community and change your life! Sign up today for a week-long journey with GRID Alternatives to transform a rural community with the power of solar in their homes. GRID Alternatives volunteers will work alongside Potrero Sur community members to install solar home systems, while experiencing full immersion in Nicaraguan life and culture.
In the community of Potrero Sur, most families make their living through agriculture, raising cattle for milk production and cultivating crops like corn, beans, and wheat. At home, many families use kerosene or diesel lamps to see at night, even if they are  aware that they are at risk for respiratory illnesses, because it is the least expensive option. For basic lighting, some families use two D alkaline batteries with two wires connected to a tiny light bulb from a flashlight.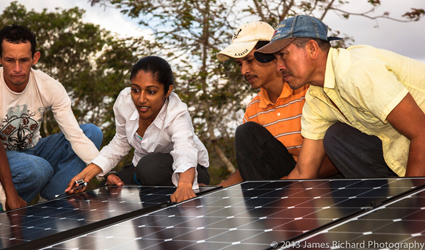 Although this system may not provide enough light for a room, families say that it is less dangerous and more economical than using a kerosene/diesel lamp. These lighting solutions do not provide the quality of lights families desire and are expensive and hazardous to use. The solar home systems you install will provide families with light and AC power outlets so they can use regular home appliances like lamps, cell phones, TVs, computers, and fans.
Tourism and Cultural Activities: 
While in the rural community, your group will participate in cultural activities to better understand the "campesino" way of life. Before and after the installation, volunteers may have a chance to go on a hike, see an eco-resort, enjoy the architecture in a Colonial town, and experience more aspects of Nicaraguan food, music and culture. Our volunteer program gives you the opportunity to get hands-on experience installing  solar energy systems and make a lasting impact in a community, while our projects demonstrate sustainable models for renewable energy development around the world. 
The trip fee is $1,600 per person, which covers all lodging, meals, transportation, activities, taxes, and fees during the 9-day stay in Nicaragua, and contributes to project costs. Airfare is not included. Participants can fundraise for the trip from their personal networks or pay out of pocket.
Contact us to register for this trip and visit the project fundraising page to make your trip deposit and payment.