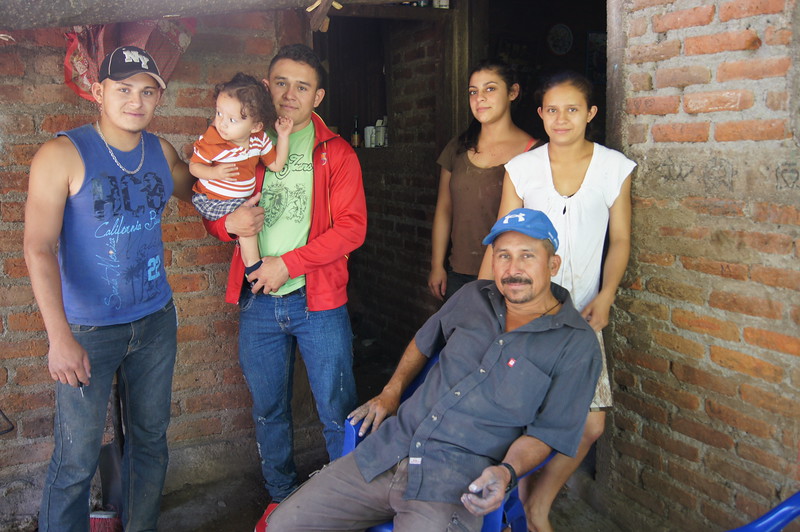 In October 2016, GRID Alternatives' International Program volunteers worked with farmers Silverio Rizo and Anita del Carmen Matus Marea to install a solar-powered drip irrigation system on their small farm in the community of Jucuapa Abajo, Matagalpa, Nicaragua. Together, volunteers and the Rizo family worked to set up the entire irrigation system including preparing the water storage tank, digging trenches for the irrigation tubes, wiring the load controller, and mounting the PV modules.
The system makes it possible for the Rizo family to irrigate hiscrops all year round, providing additional income for his family of 12.  Silverio and Anita live with their six children, their daughter-in-law, and three grandchildren together in a small house in the town of Jucuapa. Silverio arrived in Jucuapa during the contra war and has lived in Jucuapa for 34 years.
The family has a total of about 40 manzanas (a unit of measure used in Nicaragua equivalent to 1.74 acres) of land, on some of which they grow basic grains like beans and corn for family consumption. The plot of land near their house that will be irrigated is slightly over 1 manzana. The family previously could grow only cucumber, granadilla and culantro (a native herb similar to cilantro). During the rainy season, they usually plant corn, beans and millet. However, because of the recent multi-year drought, the family had stopped planting because they just barely broke even due to an inability to irrigate the crops.
Before they received the solar powered drip irrigataion system, they watered crops using a diesel-powered surface pump that they put in the nearby river. This pumped water to a small concrete water tank beside the house which then moved water from two meters of elevation to their crops below. The family was paying approximately $43 in fuel per month to water the crops twice a week. In addition to the monthly cost for fuel, the family spent time traveling to a nearby town to buy fuel.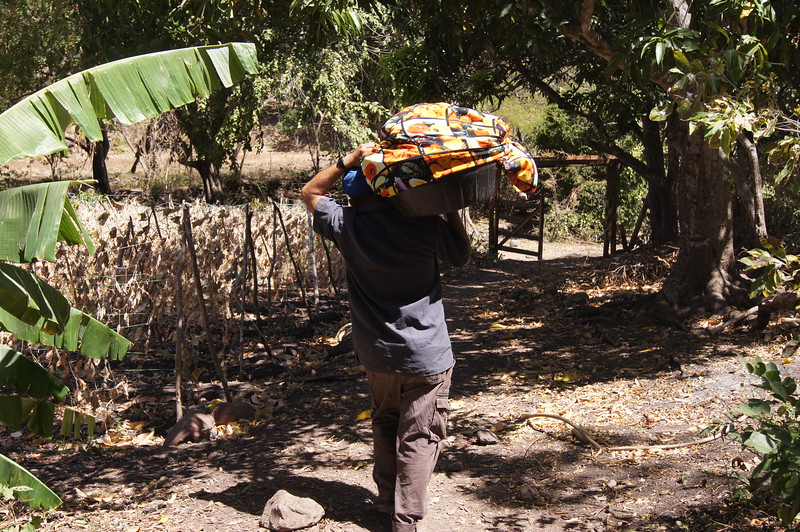 The solar-powered drip irrigation system will allow the family to save money, use water more efficiently, increase crop yields, reduce pollution, add more local produce to the market and improve the quality of their lives by having more disposable income to send their children to school and make improvements to their home. 
Besides their farm, the family also has a small store ("Pulperia") in their house where they sell snacks and basic household items to neighbors to gain a small income. Anita bakes bread in her artisanal clay oven to sell at their store as well. The family also owns chickens, seven cows, three horses, and a pig.
Silverio was recommended by the National Union of Growers and Livestock Farmers (UNAG) to be a farmer who receives a drip irrigation system in 2016 due to his demonstrated ability and commitment to farming. UNAG supports small farmers around Nicaragua and has facilitated workshops on how to make your own organic fertilizer, which Silverio and Anita have used for their plant nurseries. The family also practices crop rotation in order to prevent diseases and get a better yield. They will now be able to grow a wider variety of crops during dry season (May through October) like grenadine, papaya, passion fruit, cucumbers, tomatoes, carrots, sweet peppers and watermelon, which allows for greater flexibility of crop rotation cycles without damaging the soil.
To see photos from this project, click here.