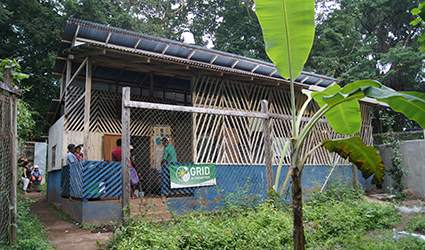 In October 2015, GRID Alternatives led a private trip to Nicaragua with volunteers from SunEdison to install a 940W off-grid photovoltaic system on a primary school in the community of Sector 2, located at San Fernando Island in Solentiname.
Solentiname Islands are an archipelago towards the southern end of Lake Nicaragua (also known as Lake Cocibolca) in the Nicaraguan department of Río San Juan. They are made up of four larger islands, each a few kilometers across, named, from west to east, Mancarroncito, Mancarrón, San Fernando, and La Venada, along with some 32 smaller islands with rocky headlands. The islands' origins are volcanic.
The community of Sector 2 has 20 families, approximately 90 people, who work as "pangeros" (boat drivers) and agriculture. Pangeros transport people to different islands within Solentiname either for commerce, studying, health care or visitors looking to relax in the majestic environment and beauty of the islands. Agriculture represents the main source of income to feed families cultivating corn, beans, fruits and dairy.
Public transportation is challenging for this community, in order to take a bigger boat to transport them to San Carlos (the main city), people have to walk for an hour, then take a boat ride for an hour in order to sell their products at the main market.
Despite the breathtaking beauty of the Solentiname islands, communities struggle with access to health care, poor housing conditions and lack of opportunities for education. There is no grid electricity in the communities and only two families own small solar home systems. Every family in the community owns a cell phone which they cannot use much because they have no way to charge it. Families light their homes using candles and kerosene lamps which emit flammable and harmful gases.
GRID volunteers installed solar panels on the Isabel Arana school, built in 2009 with the support of the community. Four SunEdison PV modules, Schneider Electric inverter, charge controller and distribution panels and 4 12V Trojan batteries were installed at the school. Children from Sector 2 used to walk about an hour to get to the closest school, but after the new school was constructed thanks to land donated by community members, and all materials and labor for the school donated by the community, the school children longer have to leave their town to go to school. The school Isabel Arana school consists of one big classroom where 23 first through sixth grade students are taught by Professor Yuri Hernandez Obando.
The photovoltaic system that GRID volunteers installed provides lights and AC power, which supports the better quality communication, education, and recreation for community members.
Check out more photos from the trip here!

To inquire about corporate sponsored trips, contact Maura McKnight, Corporate and Foundation Development Manager, at mmcknight@gridalternatives.org or 510-731-1321.