Support GRID Alternatives' International Program through sponsoring a private, team-building trip to Nicaragua, Nepal, or Mexico for up to 10 people. These unique international experiences enable teams to learn about solar energy, make a fundamental difference at a grassroots level, and gain a new perspective about life in another culture. Sponsoring a private trip not only shows your support for clean energy and poverty alleviation but helps our International Program continue to addresses a critical energy access gap in the communities we work with.   

Read below for more information on how to get your team involved in one of our upcoming private international trips and learn more about donating to our International Program. 
Why participate?
Teambuilding: Improve communication and cooperation on your team by engaging your staff in a fun, inspiring, and educational project.
Brandbuilding: Showcase your company's commitment to sustainability and social responsibility.
Experiential learning: Learn technical aspects of off-grid or grid-tied solar and how it impacts communities.
Cultural immersion: Experience program activities designed for a deep personal and team experience that helps individuals understand more about their own culture, values and underlying assumptions about global issues such as energy poverty.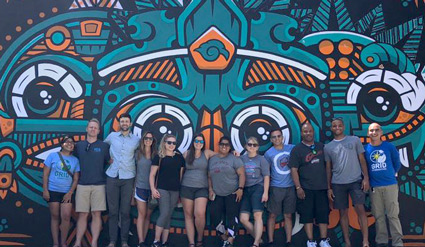 We Work With You
  GRID provides:
A corporate liaison who will work closely with your management, HR and employee engagement team.
A single GRID point of contact for your team in Nicaragua, Mexico or Nepal, who will support you every step of the way.
All logistics, transportation, accommodations and meals in-country coordinated by our GRID team. (Sample itinerary)
Bilingual guides to accompany the group at all times — no Spanish needed.
Photos you can share internally and externally.
Close collaboration with your PR/Communications team before and after the trip to highlight your sponsorship.
Sponsor a Trip!
Private team-building trip to Nicaragua, Nepal, or Mexico:

 

Private, 8-day solar expedition in Nicaragua, Mexico or Nepal 
Space for 10 employees
Three-day immersive experience installing a solar system to power a health center, a small business, an orphanages or school, a community water projects or homes in a rural off-grid community. Participants engage with community members while working on the projects.
Unique cultural activities such as a walking tour of historical sites, learning how to make chocolate, a visit to an artisan market, interaction with local residents, visiting a temple, eating lunch at a restaurant powered by solar cookers, going on a coffee farm tour, visiting small businesses with a social mission, and more.
$40,000 sponsorship donation includes all in-country accommodations, meals, transportation, and directly makes the solar project possible.  Round-trip airfare or travel insurance for participants not included.
We may also be able to offer a more custom package for companies wishing to sponsor larger projects to engage more employees.

 
Support our Workforce Development Program in Nicaragua, Nepal or Mexico

 

As part of GRID's commitment to local workforce development, your company can provide philanthropic support for a project, allowing local residents to participate in our installations.
Your company can make a project possible by sponsoring a project financially, bringing solar to communities in need and providing a unique, hands-on training opportunity to citizens of Nicaragua, Nepal, Mexico to build their skills and resumes to enter the local solar industry.  
Sponsor a cohort of Nicaraguan women to take our 5-week IBT 200 solar installation training course.

 

Your Impact
Millions of people in Nicaragua, Nepal, and Mexico live without electricity and rely on harmful, polluting alternatives like diesel and gas generators, kerosene lamps, and candles to see at night. Even in communities where the electric grid is present, the financial barriers are so high that electricity remains inaccessible and unreliable. Solar provides clean, reliable electricity 24 hours a day, enabling people to access information, stay healthy, communicate with others, enjoy entertainment, start small businesses to generate income, and live a more comfortable life.
Ready to learn more?
For more information about sending your staff on a life-changing trip with GRID, please contact international@gridalternatives.org.
 
Thank you to the following companies for joining us on trips!