In October 2017, GRID's VP of Construction and Workforce Development, Anna Bautista, received C3E's Advocacy Award for her extraordinary work advocating for clean energy and job training in underserved communities. Below is a transcript of her powerful acceptance speech.
Thank you C3E for this recognition for myself and for GRID Alternatives, and also for allowing me to invite two of my sisters from the field -- Amaris Lujano and Tia Sam. Amaris is one of our newer Installation Supervisors, finished at the top of her pre-apprenticeship program and is now studying to be an electrical engineer. And Tia is one of our SolarCorps Construction Fellows, she's a part of our one-year paid AmeriCorps fellowship program. Tia graduated from high school this year, found GRID through our Solar Futures program, and now wants to inspire and motivate other young folks.
If you haven't already, please connect with these amazing people today. Amaris and Tia are two of the women who have been served by this work, and with this award, we'll continue to expand our efforts.
I also want to thank Teresa Zhang, Carol Weis, Kristen Graf, and Erica Mackie -my nominators, mentors, and sponsors- the type of women whose lights are so bright, reflecting back at me like mirrors, reminding me to see my own light.
And finally, I want to thank my cheering squad and support system on the live stream and in the back, especially my parents -- whose sacrifices as first generation Filipino American immigrants, coming here on a nursing visa and enlisting in the US Navy, have allowed me access to formal education and to be in this room.
Despite all the support I've received, not everyone was always so encouraging; my high school counselor told me I got into MIT because I am a token woman of color. Thankfully, I grew up with a strong Filipina identity, finding community and home with other displaced people, proud of the resiliency in our blood, but that negative brain-chatter would creep in "You're an imposter, you are not enough, you don't deserve to be here." I'm so thankful for this affirming space that reminds us all that we can't hate our way into loving ourselves.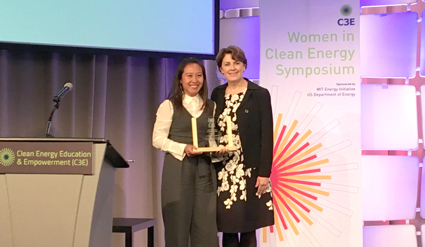 Join Anna as she works to make solar accessible to everyone. Your gift brings solar power and solar jobs to those that need them most. Donate today.
So it feels pretty special to be receiving this award at MIT today; it feels I have come full circle. I really struggled my senior year here; 9/11 happened, and then the War in Iraq, it seemed like only military contractors were hiring. I was a really angry student organizer, I was depressed. I learned, to my disappointment, there's no such thing as a pain-free life, that life is a struggle, but you have to find the things worth struggling for. However, you can't think your way to clarity on this, you need to show up, you need to act.
That year, I found an active outlet as a student in Amy Smith's first D-Lab class to Haiti. The "D" stands for "development through dialogue, design and dissemination". Haiti is majority deforested, and I witnessed that when the environment is at its worst, it affects all layers of public health -- run-off affecting water quality, soil health, food supply. I also learned the importance of developing local capacity, the effectiveness of hands-on, relevant classrooms in the field where community members could see themselves as practical builders, engineers, problem-solvers, and innovators.
After I graduated, I went to the Philippines, my family's homeland, on an environmental justice tour, learning from frontline communities -folks living and working in mines, oil depots, landfills, toxic factories- communities who pay the externalized costs for all of our stuff. These communities are extremely organized, and it was further reinforced that no one can fix our complex problems alone and no one wants to be saved; people want the power and the resources to change their own lives.
I returned to the US wanting to combine my new interests in environment and environmental justice with my electrical engineering background, inspired to change our energy infrastructure in a way that benefits the communities that matter the most to me. Americans are only 5% of the world's population, but we consume 25% of the world's energy. I wanted to use my privilege and access, living in the belly of the beast, to build alternatives. Especially these days, when it feels like there are so many things to fight, resist, dismantle, protect; we need to remember that we also need to dream and create.
At GRID Alternatives, we've built a 39 MW distributed generation power plant on the rooftops and in the neighborhoods of 9,500 low-income families and underserved communities, with the goal of building another 15 MW next year. And we've built it with a model influenced by the values gained in my travels -- community-based training, partnership, and distributed leadership where the folks most impacted can influence decision-making.
As we've discussed over the last couple of days, providing reliable, affordable, clean energy is hard work. As someone on the technical side, as an energy access practitioner running a solar construction company, I wish it was only a technical problem to solve. But we're people, we're imperfect, we're complicated, we need to have courageous conversations to change hearts, minds, and behaviors. And if we want a transition to a regenerative, clean energy economy that includes and benefits everyone, if we want to live our lives in a way that is life-giving to future generations, the process of how we get there must be equitable and just or the outcomes will not be equitable and just.
Solar is not the answer to everything, but at GRID, we're using it as a tool, not only for affordable housing, development, and career pathways, but also as a tool for energy sovereignty in Indian Country, to provide second chances for those impacted by the justice system, and to build collaborative communities across borders. This celebration gives me appreciation for how far we've come, and I hope you keep showing up with me for the work we have left to do.