GRID Alternatives entered the very first all-women/nonbinary team into the 2nd Solar Games competition at Intersolar North America. Solar Games is a Los Angeles based annual event where eight teams compete to build residential solar and storage systems to win a $10,000 cash prize. The teams are judged based on quality, safety, and speed in a three-round single-elimination process. 
Since GRID has offices all over the country, the Solar Games brought together a crew from different locations, working together for the first time. This required strong communication skills throughout the day. Although GRID did not take home the grand prize, the team inspired other attendees being the only all-women/nonbinary gender crew. There is no doubt that they were the crowd favorite!
Read below about the takeaways from the GRID Alternatives Women/Nonbinary Gender Crew!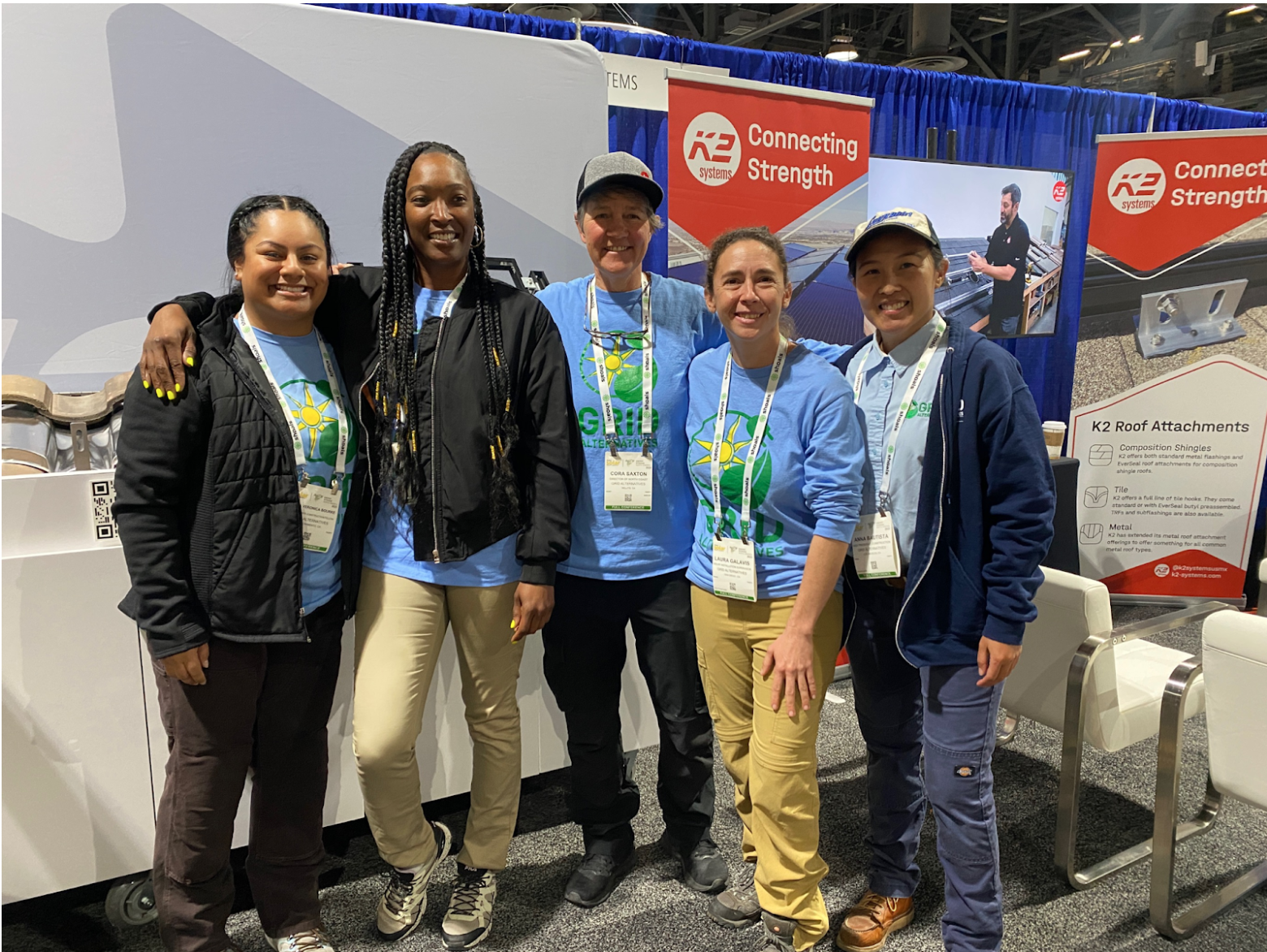 What was a highlight from the Solar Games?
Name: Anna Veronica Bourke "AV"
Location: GRID North Valley Office
Role at GRID: SolarCorps Construction Fellow
"A highlight from the Solar Games was meeting the many individuals who work for GRID Alternatives that were present in support of our crew. I was the only individual at the Intersolar Conference from GRID's North Valley office, and as a SolarCorp fellow, every face is a new face. It was incredible having the opportunity to meet folx from different GRID offices and talking about solar with them."
Name: Jinicia Davis
Location: GRID San Diego Office
Role at GRID: Construction Assistant
"A highlight for me was meeting other installers from different offices at GRID."
Name: Cora Saxton
Location: North Coast Office
Role at GRID: North Coast Director, Certified Electrician (C-10), Carpenter (B)
"One highlight was just how much appreciation and support I received from other women at the conference. It was also great to work with other GRID women, which doesn't happen very much!"
Name: Laura Galavis
Location: GRID San Diego Office
Role at GRID: Certified Electrician, SIS
"The feeling of having an impact simply by being there. Holding space and representing the possibility of more diversity. (Noticing someone FaceTiming their daughter to show that women also install)."
Name: Anna Bautista
Location: GRID Los Angeles
Role at GRID: Vice President, Construction
"A highlight was the invitation to enter the first all-women team. Solar Games reached out to us to participate in their 3rd annual Solar Games. Many folks came up to the team afterward saying how inspired they were."
What was the most challenging part from the Solar Games?
Anna Veronica "AV" Bourke
The most challenging part of the Solar Games was learning to work together as a crew who didn't work together on a regular basis. Our crew consisted of strong and smart women-identifying installers at GRID that came from different regional offices. Having to learn what works best for everyone was a challenge, especially when it came to our time for the competition.
Jinicia Davis
The most challenging part for me at the solar games was working with a system I haven't used before, which was the K-2 system since we usually use Snap and Rack.
Cora Saxton
The challenge was working with a team that hadn't worked together before. And just the first time doing anything is a little bit extra challenging.
Laura Galavis
Not participating with the folks I usually work with. Having to put a team together more as a demonstration. So it was bittersweet. I love the team we created, but I also love working with my regular "mixed" crew.
Anna Bautista
The most challenging part was entering a crew that did not work together all day, every day. We gathered crew members from across our California offices. The first time they worked together was at the Solar Games, and there was no time to adjust roles. It is a time-based competition: installing 10 modules and either an off-grid inverter or grid-tie with battery backup within 75-90 minutes.
What did you learn that you recommend for folks interested in the Solar Games next year?
Anna Veronica "AV" Bourke
One thing that I learned that I would recommend for folks interested in the Solar Games next year is to work together as a team on methodologies on how you would like to have the install completed step-by-step. Every crew/team, as well as individual, has different tactics and methods for a part of an install, and it is crucial to make sure that everyone is on the same page prior to getting on the mock roof because it makes the install go easier.
Jinicia Davis
What I learned from this experience was to relax, move at a steady pace, and have a good time!
Cora Saxton
I would really recommend a trial run with the team you're going to compete with and the equipment you're going to use. We had the manuals and we did studying but there's nothing like having the actual equipment and team together. The nature of the solar games is that teams that work well together are going to do better because it was so loud you couldn't really communicate well verbally.
Laura Galavis
Make a game plan. Know the strengths of each team member. Help each other and try to have fun.
Anna Bautista
In the future, we would enter an all-gender crew that normally works together. If we ran another all-women team, we'd train against time benchmarks beforehand.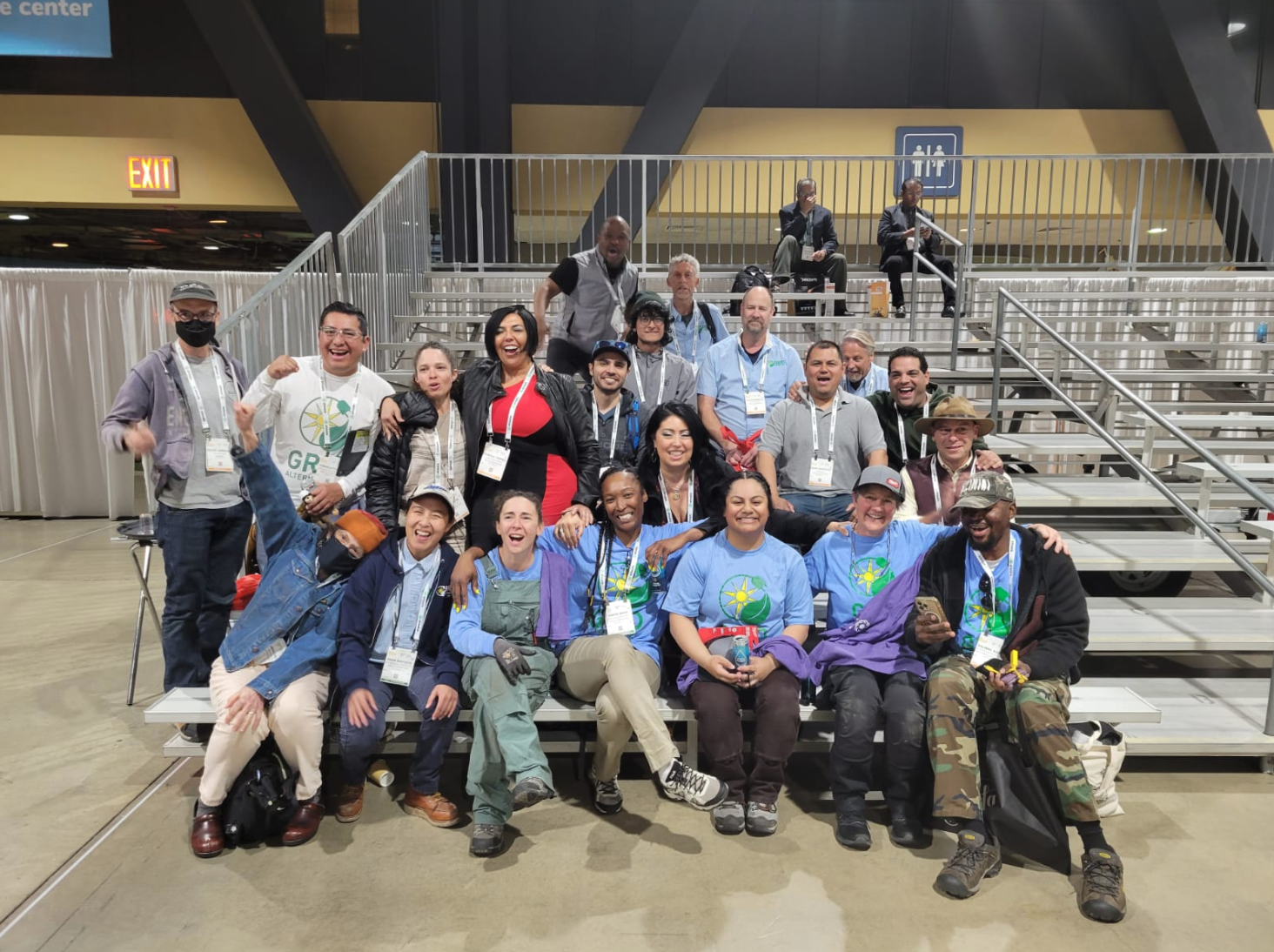 Thank you to the crew, unofficial coach Anna, and those who came to show support. The GRID Alternatives Women/Nonbinary Crew may need to return and compete in the 2024 Solar Games with the lessons they learned this year!