Right now, solar energy is getting serious attention in Congress, which could translate into tangible climate policy. With your help, we can keep equity and justice at the forefront of clean energy policies, so economic and environmental justice communities are leading the clean energy revolution.
GRID, along with the Solar Access for All coalition, has been pushing Congress to prioritize the equitable and just deployment of renewable energy. The coalition's federal policy recommendations provide for equitable access to distributed solar for 15 million low- and moderate-income households, along with inclusive job and economic growth opportunities.
Here's why we're excited…
Our proposed policy includes:
Investing $30 billion to fund existing and new programs and incentives for state, territory, and tribal governments for rooftop and community solar

Investing $10 billion dollars in support for low-income rooftop and community solar
This policy, with your help, can be part of the $1.2 trillion bipartisan infrastructure package currently on the floor in Congress, either as part of budget reconciliation, or as an amendment.
Our collective voice is being heard because of your support of our mission, because of our strong coalition of partners, because of the constant, hard work we've done on the ground and on the roof and in the polls, and it's not over yet.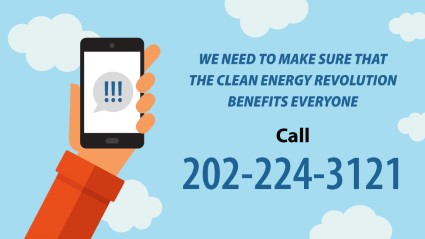 Here's where you come in
Take a moment, and call your Senator and tell them you support equitable access to solar energy in the current infrastructure package. Every phone call really does make a difference.
Call 202-224-3121, tell the Capitol switchboard you want to speak to your Senator's office, or look up the direct line to your Senator's office here. Use this easy call script.