Nurse Jwala Karki in Jumla, Nepal
Jwala Karki, a 24-year-old Staff Nurse at Pandu Gufa Health Post (PGHP) in Jumla, Nepal, is a PCL graduate from the reputable Om Health Campus Medical Institute in Chabahil, Kathmandu. Before being transferred to PGHP in 2020, she worked a total of three years in two other health facilities; one in Kalikot and the other in Dyarpata. She is a mother herself to an 18-month-old daughter. 
During her 19 months at PGHP, she has delivered 70 babies and has provided counselling services, through the Motherhood Program, to almost the same number of women, before and after their deliveries. She also provides services related to family planning, newborn vaccinations, diet supplements for mother and child, and regular visits to her patients both before and after delivery, among others. These services are vital for the safe delivery of babies and the health and well-being of new mothers.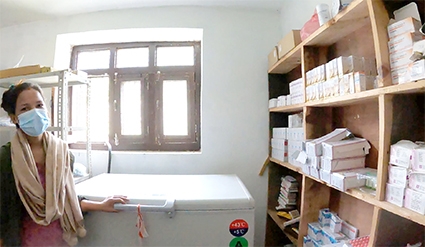 Before GRID installed a 5.9kW off-grid solar system on the health post in 2020, they used firewood for everything -- to heat the rooms, to keep the babies warm, to sterilize the tools, and many other necessities. However, smoke from burning firewood creates indoor pollution, which is harmful to delicate newborns. During especially cold winter nights, it is difficult to keep babies warm, as it takes time to warm the rooms with a wood stove. Now with solar, the availability of electricity has solved these problems. They are able to use electric Baby Warmers to keep newborns warm, electric heaters to heat the rooms for the mothers, and a tool called Autoclave to sterilize the tools. Further, with electricity, they are able to power various medical devices that aid in delivery, such as Artificial Manual Breathing Units (AMBU) and suction devices.
The PGHP provides Jwala and her young daughter residence on the premises, so that she can be available even during nights, which happens to be when most deliveries happen. She carries her baby on her back and walks 45 minutes each way, to visit family on weekends. Despite the long walks, she feels happy at PGHP compared to previous job sites, because she feels she can provide better service and a safer environment for mothers and their babies. This availability of electricity, in her eyes, is what makes PGHP better. She is happy to report that the maternal and child mortality rate is nil during the last 19 months of her tenure.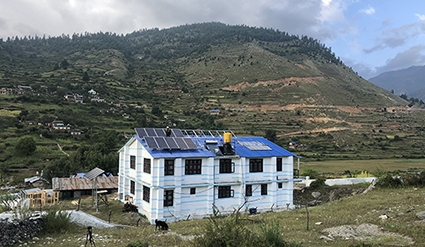 Jwala especially remembers one case last month, when a baby was in breech. Family members carried the mother on a stretcher for almost an hour in the middle of the night, to get to the PGHP, because they couldn't afford an ambulance. The labor lasted less than half an hour as the mother arrived very close to delivery. Jwala had to use a suction device to assist the mother in pushing. After the baby was born, the mother was given an AMBU bag to aid respiration for almost an hour. The healthy mother and daughter were sent home after spending 24 hours at the Pandu Gufa Health Post, both in good physical condition. Stories like this one are what makes Jwala happy and satisfied with her job -- watching new mothers, regardless of socioeconomic status, leave the health post with their new infants in their arms and radiant smiles on their faces.
Read more about the Pandu Gupha Health Post Solar Installation here.