Story by Jessica Sams, SolarCorps Outreach Fellow
The Makings of a Solar Panel Doctor
Founder of Solar Panel Doctors, Nicholas Anderson, reflects on his early days volunteering with GRID Alternatives Inland Empire
"I set a goal to start my business before I turned thirty" Nicholas Anderson proudly shares as he drives down the nostalgic streets of Downtown Riverside. Supportive father of two daughters, human companion of two energetic pups, and president of Solar Panel Doctors, Nicholas opens up: "It's rewarding to make money for my family so that my kids can do the things I was never able to do. It's a blessing. I love what I do—helping people and the environment." 
In 2011, Nicholas found himself pursuing a solar education in Colton, where he was referred by his professor to join GRID's volunteer program in the Inland Empire. To this day, Nicholas remembers the meaningful words said to him: "Talking about things in the book can only take you so far". Along with many of his classmates at the time, Nicholas volunteered with GRID to gain hands-on experience. "It was nice to have a group to learn with and grow with," says Nicholas. "When I worked in warehouses, I used to look outside during the summer and be like 'Wow, it's so beautiful outside—I wish I was outside!'" Since then, Nicholas has built his own business, Solar Panel Doctors, from the ground up. The company president shares: 
"Our niche is repair and cleaning, but we can do anything under the sun when it comes to solar. Most people don't know that they need their solar cleaned to maintain efficiency. For most systems on a roof, they lose about 15% of their efficiency. It doesn't sound like a lot, but when it's 15% every second, and the sun is out 8 hours a day–that's a lot of lost power."
Over the years, Nicholas has directed many of his employees to the same GRID training program that was referred to him: "I want them to get their feet wet and be prepared to get on roofs—which can be kind of scary." From inverter replacements to installations, Nicholas appreciates the training resources that GRID has offered his skilled team. Currently, GRID offers the only solar installation education in the region that includes hands-on experience and opportunity to learn in a classroom on the roof, provided at no-cost to the job trainees.
At the site of his first volunteer installation in 2014, Nicholas remembers the excited feelings of being on a two-story roof for the first time. Prior to the installation, a thorough safety training was delivered by Solar Installation Supervisors at the site, who would later become critical mentors in Nicholas' solar journey. Chuckling softly, Nicholas confesses:
"I was super annoying—I had so many questions, and they [GRID's Construction Team] had all the answers. It was really informative for me to be able to pick their brains and try to get to know everything about solar."
Prior to the installation, Nicholas attended a volunteer orientation led by GRID's very own Bambi Tran, who has since become the Vice President of Regions at GRID Alternatives HQ. Nicholas thinks back: "Bambi was really informative and passionate, which opened up my eyes. It was cool to see how much enthusiasm there was about the work GRID and volunteers do in their community." Nicholas carries that same excitement to his work today:
"My job is really enjoyable because each day is different. People need our help, and at Solar Panel Doctors—we are problem solvers."
Reminiscing his favorite moments from volunteering, Nicholas jokingly reveals that the lunches provided by homeowners during the installs were "the highlight of the day! But truthfully, turning on the system at the end of the day and explaining to the homeowner about how everything worked was really cool to me. Everything came together to get to this point—turning it on."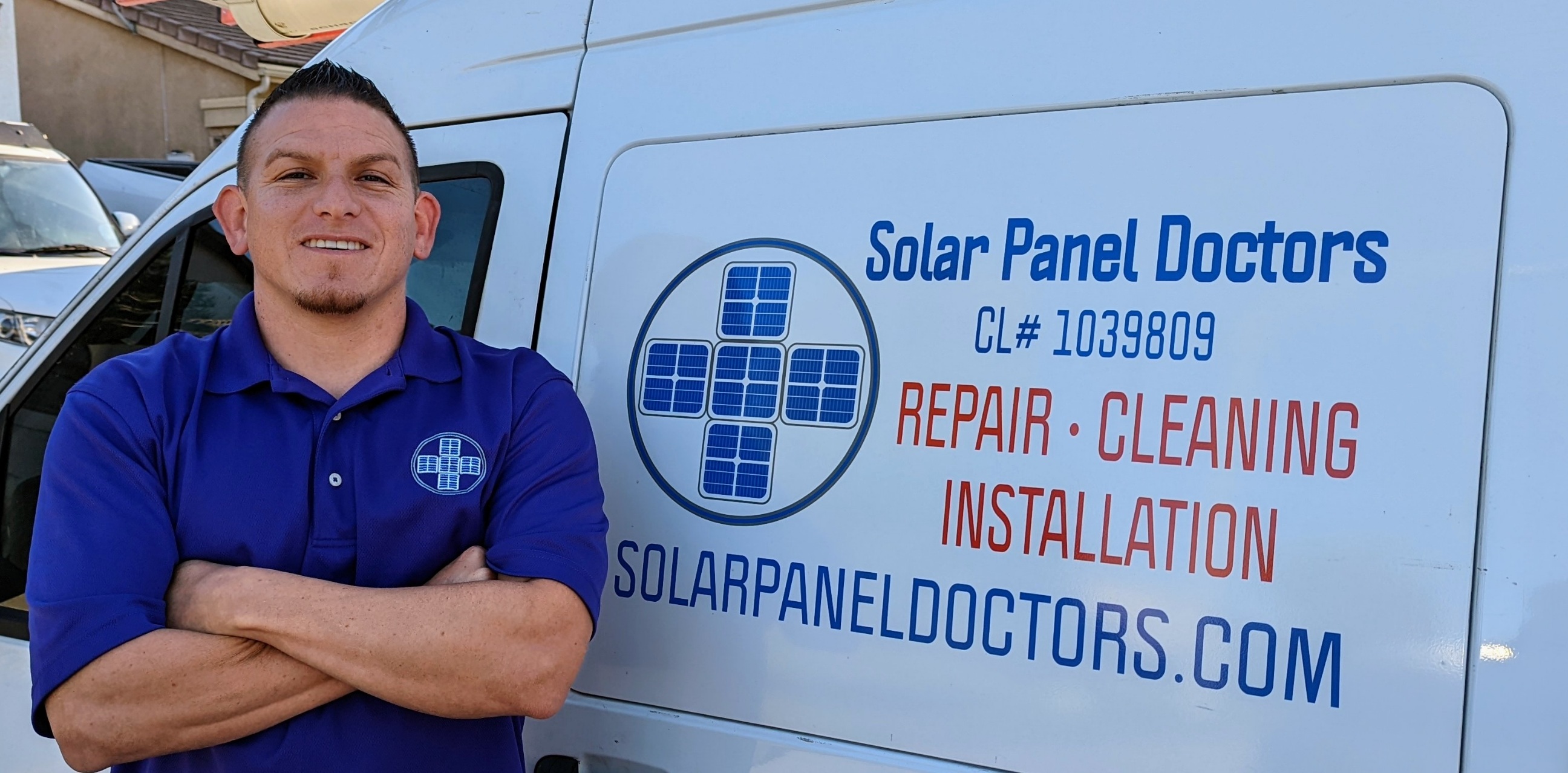 Now, Solar Panel Doctors is one of the primary subcontractors for GRID Alternatives Inland Empire. "My mentors remembered me when GRID needed a subcontractor for an installation. They called me and told me to sign up. Eventually, we started working together!" Determined to stay curious and allow others to grab hold of bright opportunities, Nicholas mentors a first-year solar trainee in the Solar Panel Doctors crew:
"Everyday is a good day to learn" explains Nicholas.