This year, Interconnection went online for the first time ever. Instead of gathering in San Francisco, we were able to broadcast our speakers and honorees directly to people's living rooms. Although we missed seeing everyone in person, it was a wonderful opportunity to connect remotely with our GRID family across the globe - nearly 200 households tuned in to watch the live event!
We honored two organizations at the frontline of social and environmental justice: the Sunrise Movement and the Beneficial State Foundation. Steven Marquardt, founder of Sunrise Chico accepted the award on Sunrise Movement's behalf, a youth-led movement to stop climate change and create millions of jobs in the process. "The youth are shifting the politics of what is possible," noted Steven. Erin Kilmer-Neel, Quinn Williams, and Michelle Barron from the Beneficial State Foundation spoke on the importance of clean vehicles for everyone.
Abby Hopper, CEO of the Solar Energy Industries Association, joined Interconnection to led guests in a toast. Alex Honnold, professional rock climber and founder of the Honnold Foundation, took a break from his climbing to join the celebration. "Every time I've done an install I've come away so personally inspired," said Alex.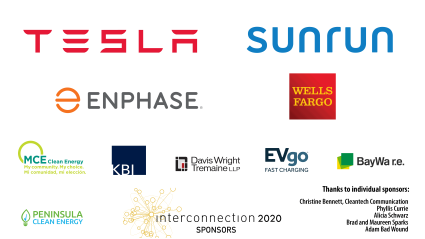 Our very own staff stepped into the spotlight from their homes to share their passion for GRID's work. Adam Bad Wound kicked off the evening with a toast, Anna Bautista and Erika Symmonds talked about the importance of diverse and equitable workforce training programs. Tim Willink gave everyone an update on The Tribal Program, and our co-founder Tim Sears joined to share GRID's overall impact since its inception. Zach Franklin shared our innovative Clean Mobility work, as well as some solar-themed jokes. Erica Mackie, co-founder and CEO of GRID, wrapped up the evening. "Solar is magic. The magic is that solar is a tool for social justice."
We are so grateful to everyone who supported our Interconnection fundraiser. Our corporate and individual supporters helped us raise over $100,000 for renewable energy for all!
We'd like to thank our amazing event sponsors: Our Gigawatt sponsors: Tesla and Sunrun, our Megawatt sponsors: Enphase, Davis Wright Tremaine, EV Go, and Wells Fargo, and our Kilowatt Sponsors: Peninsula Clean Energy, and MCE. We also want to express our gratitude to our individual supporters: Christine Bennet, Cleantech Communication, Phyllis Currie, Alicia Schwarz, Brad and Maureen Sparks, and Adam Bad Wound.
If you missed Interconnection, be sure to watch the recording!