Guest Author: Amaris Lujano, GRID Bay Area Solar Installation Supervisor (Blog originally posted by MCE. View it here)
I'm the daughter of a General Contractor who grew up in a traditional Mexican household. I grew up around construction tools, watching my father fix any- and everything. As a young child I thought only men could do the construction work my father did. He himself was quick to share, "girls aren't supposed to do those things." It wasn't long before I started questioning this. I knew I was physically capable, and I simply couldn't understand why.
Now, I am not only a woman in construction, I also teach and train others as a Solar Installation Supervisor for GRID Bay Area. Being a woman in a male-dominated industry has many challenges though. As women, we have to work twice as hard to prove why we are here, and that we can do this too. There's pressure to water down my femininity to conform to the masculinity in the field, but I don't give in to that. Every solar installation day, I rock my bright pink hardhat. I'm a woman and I'm here, now let's get this work done!
Many of the challenges, though, aren't just about the job. Being a single mother in a field of this nature, I have to carefully calculate everything I do daily, ensuring that I complete my assigned tasks and make it home safe and functional to my son. I've had many hardships as a single mother. I used these hardships as motivation and life lessons to teach my son. No matter what the hardship was, I remained grateful for the lesson learned.
I also know that getting through these challenges takes hard work and the support of people who believe in you. It was actually a former supervisor who helped me launch my current career. He found out about the situation I was in, and recommended me to a pre-apprenticeship program called Future Build in the same city – Pittsburg, CA. He told me he couldn't afford to pay me what my skills were worth but thought that if I had the certifications to back me up, I could go far. He personally drove me over to Future Build to apply and waited until I was finished. During the 16-week program, I worked three jobs at the same time, including continuing my employment with him. I was one of two women in my class of 20. I'm proud to say that I graduated Valedictorian of my class and had six offers of employment with some pretty impressive companies.
I was highly interested in electrical and solar energy, though, and had gotten excited about GRID Alternatives while my Future Build cohort did a community project with GRID Alternatives to install solar panels on top of the City of Pittsburg library. While working other paying jobs, I continued to volunteer for GRID and eventually landed the position I was aiming for – Solar Installation Supervisor.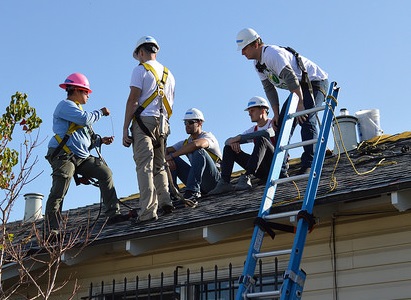 What fulfills me the most about my journey is that not only do I help underserved communities across the Bay Area, but I also teach people, all while my son observes. The biggest lesson I try to teach him is that anyone can do anything. Just because someone looks a certain way or is a certain gender, identity, culture, or religion, it doesn't mean that they conform to societal views and traditions. Just look at me: I graduated at the top of a male-dominated class, and now not only lead but teach in my field, all despite stereotypes about traditional gender roles. I even get to teach my own traditional father about the solar industry – despite his vast knowledge of all other trades, I'm the expert in solar. Women have a powerful voice and presence, so get out there and make a difference!