Five thousand miles, eleven GRID Alternatives offices, and one trusty bike. In early April, Michael Johnson-Chase set off on a cycling adventure that would take him from coast to coast and connect him with GRID staff, volunteers and clients across the country.
Michael's goal is to raise awareness of climate change through storytelling, physical activity and social activism. Dubbed the "GRID Alternatives Trans American Cycling Tour," his route ran the length of California from San Diego to Chico, and will conclude in Washington D.C. He chose to dedicate his cross-country cycling feat to GRID Alternatives, and hopes to raise $10,000 for our work, in addition to helping to install solar for GRID clients throughout his journey.
"It's an easy dedication. GRID does so much to support everything that I care for," Michael said during a picnic held in his honor at the Bay Area office in Oakland, where he was presented with an official GRID Alternatives cycling jersey.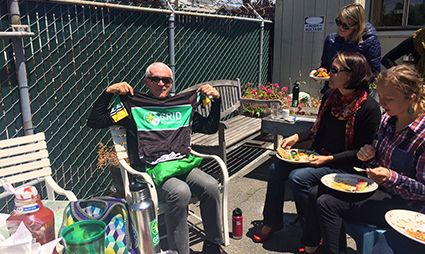 He's currently cycling towards Denver, after passing through California's beautiful Sierras. The final leg of his journey, from GRID's New York Tri-State office to our Mid-Atlantic office will take place from September 17-21 as part of Climate Ride's official NYC-DC tour.
Follow Michael's journey on his travelogue and put a little wind at his back by donating to his Climate Ride Independent Cycling Challenge, benefitting GRID Alternatives.
Thanks for shining a spotlight on our mission, Michael! You're an inspiration to us all.