We're highlighting a fantastic and integral member of the GRID Mid-Atlantic staff, Nikki Mammano. Nikki began working with GRID as a SolarCorps fellow for the Outreach team, and was eventually hired on full-time as an Outreach Coordinator. Known for her compassionate approach to working with clients, outside of work Nikki is also an amazing salsa dancer and houseplant enthusiast. In 2019, Nikki was in a life-changing car accident and continues to work through her recovery process.
How did you first become interested in environmental justice?
I honestly don't have an exact pinpoint of when or how I first became interested. Maybe it comes from always being outdoors when I was little and hiking with my mom or when she would take me volunteering with her, but I have always had a love for sustainability and a passion for making a positive impact in the world.
I started to realize my passions for environmental and social justice when I stopped eating meat at 15. Originally I stopped for the sake of animal cruelty, but as I got older I learned about the environmental impacts of factory farming and how dangerous and exploitative the meat industry is, especially for immigrant workers.
The first significant experience I had involving environmental justice, which sparked my desire to pursue sustainability as a future career, was starting an environmental club in high school. The formation of this club came about after I was nominated to attend an environmental summer leadership program, the Washington Youth Summit on the Environment (WYSE). I am still not sure how this program found me or how I was nominated, I just received an invitation in the mail one day and the rest is history.
As an outreach coordinator, what have been your favorite client interactions?
It is so meaningful to me when clients and I share a meal because I feel that it builds a lot of trust between me and the client. They might be making something when I'm over at their house for an outreach site visit when they offer me some food or snacks. One of my absolute favorite interactions though was when a client gifted me a baby tomato plant. I took this baby tomato plant and one of my colleagues let me borrow a large planter to help it grow. I kept it for months, nourishing it and watching it grow and then before I knew it, it was time to harvest baby tomatoes.
This interaction symbolized for me building a relationship with the clients. Our relationships start out small, but then as time goes on we slowly develop trust and grow, then finally an install can take place, which is kind of like harvesting the tomatoes.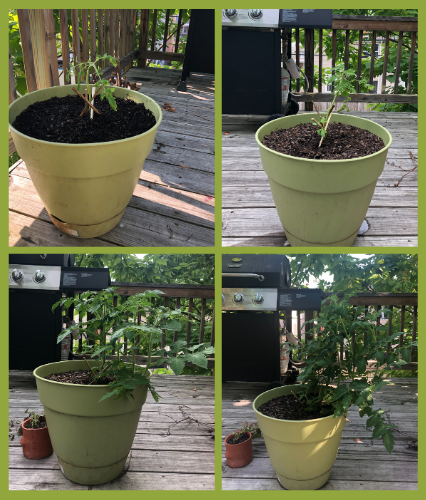 Since you've been at GRID, is there any experience that stands out as being especially fulfilling or meaningful to you?
The one I said above about the tomato plant. However, some of the most meaningful occurrences are when clients who have been in our pipeline for months or even years are finally able to get an install. I try my hardest to not give up on a client despite the complications that may be coming up in their application. Whatever it is that is causing the delay, it is always really special when they can finally get their install.
In 2019 you were in a severe, life-altering car accident. What did returning to daily life and work look like in the midst of your recovery process?
The accident happened 10 days after my official promotion from my SolarCorps position to my permanent position now as an Outreach Coordinator. After healing for five months, my first day back into the office was March 9th. Then, exactly a week later we were sent home to work from home for the rest of the year due to COVID-19.
Not only was I adjusting back to my daily life and work with a brain injury after being out of work for five months, I was now having to readjust to working virtually. Already with anxious feelings around the pandemic in general, I missed how my life was pre-accident and pre-COVID. And as the pandemic has dragged on, I miss the office and seeing my coworkers and clients in person more and more.
However, I have to try to think that the accident happened at the exact time it was meant to in my life, just a few months before COVID hit. The positive thing about having the opportunity and the privilege to work from home post-injuries, is all of the extra healing I have been able to do on my own time. I do not feel as rushed to get back to the normal day-to-day and enjoy spending more time in my space, which helps both with my healing process and learning all of the new strategies I need to help me with work because of my brain injury.
I made very silly mistakes my first week back in the office. We have a shared office calendar and I didn't understand why all of the construction events were coming up on my calendar at first, so I ended up deleting all of the construction events from the shared calendar. I had to laugh at myself and everyone laughed with me.
Has the accident shifted your perspective at all, or affected the way you think about or approach your work?
Especially with the pandemic happening, I became interested in learning more about trauma-sensitive client care. I created a whole presentation on the topic that I gave to GRID's Outreach department in October, 2020.
I don't think my perspective has shifted much because I think I've always approached my work with empathy, compassion, and the mindset of my clients needs coming first. I do this to not only build trust and a healthy relationship, but to hopefully give the client the best experience possible with GRID.
If you were to speak with someone who recently survived a life-altering experience similar to yours, is there anything you would want to say to them?
As time has gone on, while I will never be okay with what happened, the intensity has faded and I have been able to find strength, wisdom, gratitude, and resilience.
For fellow trauma survivors and just humans in general, what I would say is: try not to be scared of or avoid your emotions from grief or trauma. However, don't let your emotions control you either. Healing is possible with the right care and healthy coping strategies. Don't give up trying to find what works best for you, it takes time, patience, and trial and error. When you have bad days, try to remind yourself of just how far you've come in your healing already and all of your milestones. I kept a milestone journal to help remind myself, which may work for you as well. Healing from grief is a process, it takes time, and it looks a bit different for everyone. It's also okay to start over as many times as you need to.