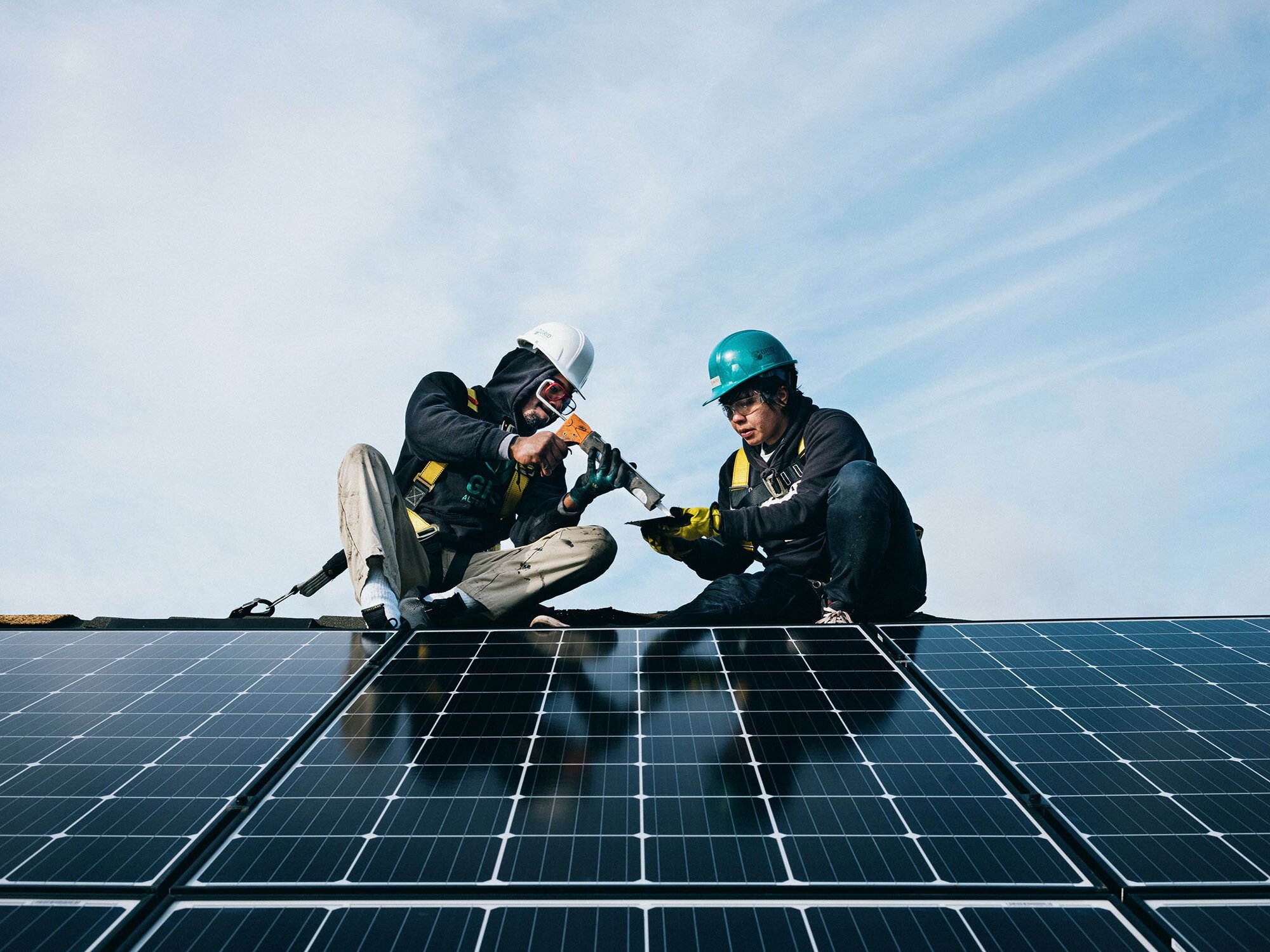 Energy Resilience Fund is wholly owned and managed by GRID Alternatives, a California 501(c)(3) nonprofit with 20 years of experience providing low-to-moderate income (LMI) communities with access to solar energy installations and clean energy job training opportunities.
Energy Resilience Fund is a mission-locked Public Benefit LLC, which promotes the public benefit of providing inclusive financing for community-powered renewable energy solutions that advance economic and environmental justice.
For over 15 years, GRID Alternatives has provided low-cost technical assistance, in-house solar design, and installation services to affordable housing providers and nonprofit organizations. In 2016, GRID Alternatives, Vote Solar, and the Center for Social Inclusion launched The Low-Income Solar Policy Guide to help drive the proposal and adoption of new low-income solar policies and programs. That guide identified that the low-to-moderate income sector often does not have available capital for cash purchases, experiences credit barriers andowner/tenant split incentives, and has historically been dismissed by investors and lenders as high-risk, resulting in overall market disinterest. Faced with many high-impact multifamily, commercial, and community scale projects put on hold or delayed indefinitely each year as a result of a lack in funding or financing, GRID Alternatives could not accept the continued dismissal of these communities by existing market forces, impeding our push toward a just clean energy future. Energy Resilience Fund was created to help borrowers overcome traditional market barriers to secure affordable financing and shift ownership and wealth-building opportunities from investors to communities themselves.
Many funds are limited by the pipeline of opportunity. Through GRID Alternatives, our fund has access to a steady stream of lending opportunities in California, Colorado, New Mexico, Maryland, Virginia, Washington DC, and in Tribal communities around the country. Additionally, Energy Resilience Fund offers financing to other mission-aligned projects outside of GRID Alternatives' physical footprint by working with other trusted clean energy project developers, affordable housing providers, and engaging with community development financial institutions (CDFIs). We are currently pursuing CDFI certification for Energy Resilience Fund and developing more subsidized technical assistance programs for CDFIs and community organizations to further scale our financing reach.
Energy Resilience Fund invests in LMI-dedicated clean energy projects that deliver meaningful savings and wealth-building opportunities to ensure both higher benefit delivery and higher repayment rates.
Energy Resilience Fund operates as a solar and clean energy loan fund that offers more inclusive and competitive financing for clean energy projects that incorporate job training and provide economic benefit to communities historically underserved by traditional financing institutions. We raise philanthropic investments (debt) and use those funds to provide loans to nonprofits, affordable housing providers, Tribal communities, and mission-aligned clean energy project developers. We pair our impact-oriented debt with outside capital such as rebates, incentives, grants, and market capital (both equity and debt) to leverage philanthropic dollars further and scale the impact of this clean energy and economic development work. We offer short-term loans to projects with identified and reliable take-out capital like rebates, tax equity investments, or permanent financing. Additionally, our long-term loans provide patient capital to projects with predictable long-term energy savings/revenue where net energy savings promote high repayment rates.
Energy Resilience Fund remains focused on financing products that provide substantial, measurable, and meaningful benefits to the communities served. This includes filling the financing gaps in the evolving renewable energy market. With the recent passage of the Inflation Reduction Act, Energy Resilience Fund recognizes that financing will likely play a key role for community partners to tap into newly available incentives such as the direct payment option for the federal investment tax credit (ITC). Within GRID's pipeline alone, there are roughly 20MW of high-impact multifamily, commercial, and community solar projects in need of financing.
Energy Resilience Fund is raising $50M in impact investments to support the immediate pipeline of projects, but the need is likely to grow rapidly as more projects become economically feasible with the direct pay ITC and low-income project bonuses.
Anyone can invest with Energy Resilience Fund as long as they can meet the $125,000 minimum investment and their goals align with our need for impactful, patient, and low-cost capital. Our investments to date have come from private foundations and donor-advised funds in the form of program-related investments and recoverable grants.
To make an investment, contact Maya Anthony, Project Development Coordinator. Learn more at Energy Resilience Fund.