Growing up and showing up
We need accountability for diversity and inclusion in the clean energy industry
Content warning: racism, sexism 
The clean energy industry has an accountability problem when it comes to inclusion. Despite a growing number of programs and commitments to diversify the renewable energy workforce, the culture of the industry remains hostile to women and people of color. With an increasing need for renewable energy to combat climate change, we collectively must do more to ensure that people of the global majority have a safe, inclusive, just workplace, from job sites to board rooms, where staff, volunteers, trainees, clients and community representatives are heard, supported, respected, and valued. As a starting point we must have an open conversation about why it's simply not enough to increase racial diversity within the renewable industry without acknowledging that racism and white supremacy culture continue to show up in the workplace. 
GRID Alternatives recently became aware of the lawsuit filed by the Department of Fair Employment and Housing against Tesla, alleging horrific civil rights violations, including segregation, retaliation and racism. And despite the fact that these incidents received coverage by the LA Times and other large news outlets, few in the clean energy space called for accountability from Tesla, or the industry at large, to address racism. We specifically noticed that this story received little attention during Black History Month, when many companies were ramping up public celebrations of Black history on their platforms.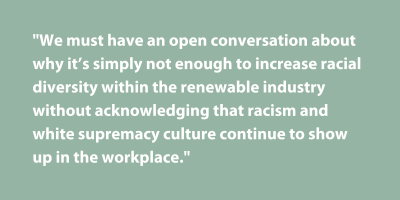 GRID is horrified by these allegations. We have spent several weeks internally discussing how we should respond, including hearing from GRID staff across the world that felt it was an important part of our commitment to equity that we take a public stance. While these events didn't happen at GRID, they do impact our staff and our communities directly. For example, former GRID Greater Los Angeles trainee Latrina Bluford allegedly experienced horrible abuse while employed at Tesla, including harassment about her gender identity and sexual orientation, being called racial slurs, and even being kicked by a coworker, as described in a complaint filed in Los Angeles County Court. There is absolutely no place in the renewable energy industry for this kind of outright racism, sexism, or gender discrimination and GRID cannot stay silent.
Unfortunately, this isn't the first time that Tesla has been in the news for racism and alleged violations of worker's rights. In 2021 the National Labor Relations Board found that Tesla violated labor laws by interrogating, firing, and threatening workers who attempted to unionize their factory in Freemont. Tesla is currently the only nonunion major automotive plant in the country. A lack of collective bargaining power renders nonwhite workers even more vulnerable to unfair treatment with no avenue to address grievances in the workplace. As an organization with a commitment to equity and economic justice, GRID unequivocally supports the right of workers to form a union, which can help protect employees from discrimination and unfair treatment.
And while we find the descriptions of the alleged civil rights violations against Tesla employees  especially egregious, as we said in an op ed four years ago, this "is about more than a handful of bad actors, or a lack of good policies; it's a symptom of structural racism inside and outside the…industry that affects all of us, and that we have a collective and individual responsibility to address."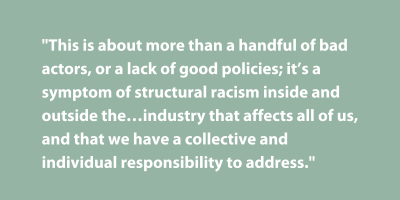 While GRID is focused on and advocating for a just transition to clean energy, we have noticed that many companies and organizations have remained focused on any transition to clean energy, period. The capitalist approach to be the biggest company, realize the most profits, and control the market with little to no consideration of issues like environmental racism, systemic oppression, and/or equitable access in turn creates corporate breeding grounds for business as usual, institutionalized racism, sexism, gender discrimination, and much more. 
GRID is calling on the clean energy industry to grow up and we are calling on clean energy advocates to show up. We all need to realize and leverage our political, social, and human capital to demand change. Tesla and other companies must right their wrongs, not with lip service but with measurable and lasting actions that change the business as usual model. People of color, who have for too long been subject to oppression, injustice, and outright hatred, deserve basic human rights to which we're all entitled - a living wage, access to healthcare, and a workplace free from harassment and discrimination. We need our allies to call out injustice when they see it, including when that means looking inward.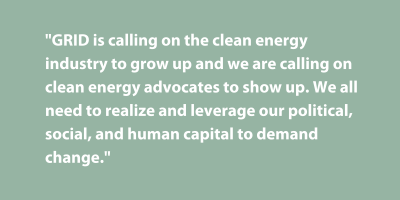 Anything short of that and we will have failed in a major aspect of our goals to advance economic and environmental justice in the climate movement. As GRID reflects on our own journey of accountability, we acknowledge that we have experienced many growing pains in the ongoing process of integrating equity, inclusion and diversity (EID) across our programs - but we are a better, stronger, more inclusive and more intentional organization because of the work and the decisions we have made. One of the first steps we took was hiring Black-led consulting firms to assess our culture and to provide venues for feedback from staff of color. This early feedback was used to inform our EID strategy over the years, including requiring equity, inclusion and diversity training and commitments from our leadership team so that we create pipelines for diversity but also so we can retain diverse candidates. We know we still have a long way to go, but we are headed in a direction that signals we want to be the change we collectively seek. 
At GRID Alternatives, we think the renewable energy industry has an opportunity to change the existing paradigm for a more inclusive, safe and just future, and we need everyone on that journey.