Located in Madera, California, Valle de Las Brisas is an affordable housing development of charming single-story, Spanish-inspired, terracotta-roofed apartments in the heart of California's San Joaquin Valley. It is also home to a community of approximately 81 senior residents. Tenants at Las Brisas enjoy amenities including spacious yards, a shared community pool, and now - energy from the sun.
The San Joaquin Valley is a major contributor to California's status as the fifth largest economy in the world, producing a quarter of the nation's food and home to 4.3 million people. The area is situated in California's Central Valley and has some of the nation's worst air quality, attributed to its topographic location, its robust industry and its position in a vital interstate commercial corridor. According to the US EPA, the rate of asthma in children in the San Joaquin is 20% higher than the state average.  
To help combat the environmental and health issues that affect the residents of Valle de las Brisas, GRID Alternatives secured funding through the cap and trade-funded Solar on Multifamily Affordable Housing (SOMAH) program to install a 204.8 kW-DC solar system that will provide both the residents and the property owner with clean, renewable energy and substantial long-term savings. The completed solar system will be providing tenants approximately $40,427 of energy savings annually, equating to $1,029,377 over the systems' lifetime. In addition, property administration will save $2,442 annually on energy in common areas around the community. In the near future, tenants are expected to have zero electric costs. The savings that tenants receive from solar can be put directly into their pockets and in turn be used for other expenses, including rent. The cost savings from common areas allow property owners to invest more into their communities like Valle de Las Brisas and continue to provide more affordable housing in California.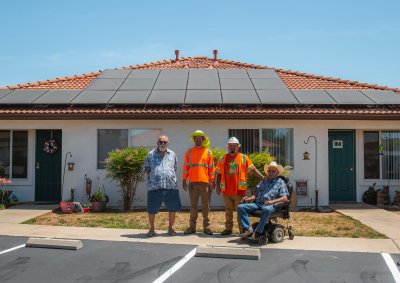 Ryan Arango is the Director of Asset Management at Preservation Equity Fund Advisors. He has been working with GRID to access incentives from the SOMAH program, in order to get solar for multiple properties, including Las Brisas. "GRID is the leader in the affordable housing space for installing solar. They've done more projects than any other similar organization and have had the biggest solar footprint in the state [of California]. The team we worked with was extremely accommodating and creative with helping us to receive the financing we needed to help subsidize the cost of putting solar on Las Brisas. GRID has an extensive network of relationships with the nonprofits needed to pull this project off."
GRID Alternatives was also able to offer paid installation experience to two Installation Basics Training 200 (IBT 200) graduates from our Central Valley regional office. Oscar Morales had recently completed his IBT training, and joined the Las Brisas team. "It was a great experience, I got to gain knowledge and get hands-on experience from working on this multifamily project." He offers to others who may be considering IBT training, "I would say it's the best decision to make. This is a career, not just a dead-end job. In this field of work, it's not just construction – there are so many other job opportunities in the solar industry." As part of our organization's drive to build a solar workforce for the future, we are happy to provide opportunities to those who complete our free IBT program whenever possible. 
GRID Alternatives is proud to work with our communities to install solar on affordable multifamily housing. Everyone should have access to clean, renewable energy that not only creates savings on energy bills, but contributes to clean air for all.
For more information on our multifamily affordable housing work, contact: 
Shamir Chauhan, Director of Multifamily Development
multifamily@gridalternatives.org
510.731.1318