Who We Are
GRID Alternatives' vision is a successful transition to clean, renewable energy that includes everyone. Our mission is to make renewable energy technology and job training accessible to underserved communities.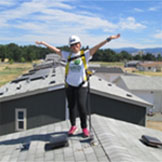 Your gift puts solar power and solar jobs where they are needed most.
Connect With GRID
Follow us on social media:
Our Impact
News From the Field
Hello GRID friends! GRID Alternatives began with a simple idea: solar power should be available to all. Since 2001, GRID has worked side by side with...

Schoolteacher Jonathan Fong lives in a modest row home on a steep hill in the Oceanview neighborhood of southwest San Francisco, a city whose housing...

Earlier this year, GRID joined the Global Climate Strike as a supporting organization, and many of our staff across the country joined locally...

Ojo Encino, a small community of about 600 people in the New Mexico desert, has one thing in abundance: sunshine. Last year, the Ojo Encino Chapter...

Meet Pooja Ravindran, GRID's Illinois Solar for All Workforce Program Manager.