In February, 11 RES employees traveled to Nepal with GRID's International Program to install solar on an off-grid wildlife observation tower in Bardia National Park. Fergal Duffy, Contracts Manager in RES's UK office, shares his experience through a short prose.
Our emotions are peeled back to their basic state, as we digest the sights and sounds of Nepal. This is a land of complimentary religions which enrich the spirit and are expressed vividly through colour. Where hills grow into mountains and where people have the kindest hearts with such an infectious smile. As we enter temples, we are lead in merry dance around ornate structures by a cackle of monkeys. They squeal with disapproval where they are not the centre of attention. The Stupas gleam in the winter sun with the all-seeing eyes gazing over the land. We look up with a measure of deity and awe.. The Buddhist chant resonates from within the structure as the masses walk tirelessly around its base paying homage with ever stroke of their prayer beads.
This is land filled with mystic, where all of our sensories are exposed to an explosion of experiences. Our thoughts soften though, as we embrace these experiences and open up our souls to the dreams of our youth. A world where anything is possible and where there little to fear... Even the unruly traffic makes way for our movement with the tip of a hand and a stern gaze, we pass peacefully to the other side of the highway.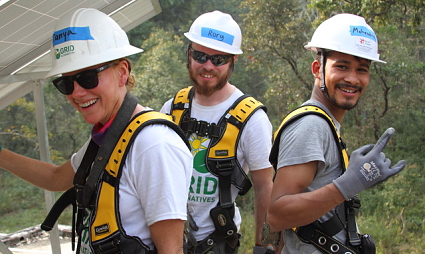 As we move deeper into the lands, at night, the dogs bark instructions to their kin residing in the nearby valleys and the cockerels attuned to sun rise, awake the unsuspecting traveller to the new dawn. Sleep is at a premium in the Himalayas. In the heat of the day the vultures are masters of the skies, constantly searching out thermals where they effortlessly scan the landscape for any easy pickings for a wholesome lunch.
The project. An opportunity and catalyst for an adventure of a lifetime. We arrive from different time zones and immediately align under one star and the masterful tutelage of our gurus from Grid Alternatives. We instantly connect as if we were pre-programmed from a previous gathering.. we are culturally the same. The momentum is with us and we have one goal to present a project that we and indeed the community can be proud off. Our basic principles…
Passionate …without question… Accountable with every breath… Respectful to our hosts and this great country where we receive a welcome fit for royalty. Collaborative… we are brothers and sisters. We are friends for life. Excellence… We are totally driven to leave a little piece of ourselves in Bardia National Park. Our mission accomplished we leave a project that supports the community in every way and is sustainable. Climate change is happening and affects the poorest countries the most. We leave Nepal and return to our families and our roles within RES knowing and feeling … We have made a difference. We are proud of our achievements, our company and one another….
We truly are a team…..
Thank you everybody for the memories.
--Fergal Duffy