Our environmental history in the United States has been rooted in racist policies and systems, such as redlining and housing discrimination, that have contributed to Black, Brown, Indigenous, and underserved communities being overburdened by air pollution and the legacy of fossil fuels. According to the 2021 Greenpeace Report, Fossil Fuel Racism, studies have shown that extreme heat, caused by the climate crisis and exacerbated by fossil fuel extraction and air pollution, puts these communities at disproportionate risk of premature deaths and birth complications.
Cars, trucks, and buses are major contributors to air pollution, as well as some of the biggest sources of global warming emissions in the United States. The transition to electric vehicles and clean mobility is a powerful opportunity for repair for communities that have lived for far too long without viable access to clean energy. By pairing clean mobility options with solar power, GRID Alternatives advances an equitable and just transition to clean energy that helps families replace gasoline with sunshine, save money and reduce local air pollution. Communities deserve to choose from a wider range of transportation solutions while keeping money in the community and reducing both greenhouse gas emissions and local air pollution in their neighborhoods. 
This year, we witnessed unprecedented federal, state and utility investments in transportation electrification and equity. This means that implementers, the people and agencies responsible for using these funds, are working to ensure that implementation and program design drive substantial, measurable benefits to individuals and families that need them the most. GRID understands that in addition to providing real climate and health benefits, this level of government investment provides new opportunities for economic growth and equity-centered initiatives for households disproportionately burdened by record-high gasoline prices, limited access to mobility options, and that have been historically impacted by environmental injustice. 
There are two fundamental questions to think about, however, as these programs get created:
What does it really mean to go beyond "checking the box" for equity? 

How will new investment dollars, allocated to implement equitable clean mobility programs, drive measurable benefits for income-qualified households?
GRID hosted a two-hour webinar, Beyond Access: Implementing Equitable Clean Mobility Investments, on December 8, 2022 to address these questions. More than 115 attendees, representing government agencies, nonprofits, coalitions, affordable housing and environmental justice advocates, joined GRID to hear from three dynamic leaders in equitable clean mobility program implementation in one-on-one conversations with leaders from GRID Alternatives' Clean Mobility Program. To kick-off the webinar, GRID premiered its new video, People Powered, highlighting the critical factors and opportunities for a just transition to clean mobility. GRID is grateful to the GM Climate Equity Fund for their generous support of these projects and our work.
Webinar Highlights
"Equity is a process not just the outcome."
Chanell Fletcher, from the California Air Resources Board, discussed equity as a process with Linda Khamoushian, GRID's Director of Shared Mobility. Fletcher stated, "We have to start taking lived experience as expertise. That's what needs to be shaping our programs and front and center in development. Doing something differently is a part of change. There will be difficult and messy conversations, but these are the shifts that the communities want to see from us and our programs." She went on to emphasize that "Equity is a process not just the outcome. It's about looking at how we got to where we are. I see the tension between dismantling and incremental progress. A lot of the work the government and CARB does is incremental. Inertia is real in government agencies. If we don't have the perseverance to see things through, it becomes too easy for projects to stall. So no matter what small wins we get, we need to keep moving forward and keep pushing. Having transparency and honesty is important."
"There is a misconception that EVs are a luxury good."
Stephen Morel from the Montgomery County Green Bank discussed with Rachael Aptowitz, GRID's Clean Mobility Program Strategist, how the Maryland-based nonprofit addresses EV charging and equity for multifamily residents. "Like any developing marketplace, it's key not to have anyone left behind. Multifamily residents are an important sector in the EV marketplace. Some people have a misperception about what are luxury and non-luxury goods. There is a misconception that EVs are a luxury good." He went on to discuss the challenges of financing EV charging at multifamily housing. "Having a solution outside the capital stack is important from a financing solution. The landlord/tenant split needs to be overcome. As we think about these investments and the costs not passing through to the tenants, that's where we wanted to intervene. We learned there are lots of incentives right now to install from a tax, grants perspective. Why don't we bridge that for owners so there is nothing coming out of their pockets, which we call a bridge loan. We also try to work with 3rd party providers in the charging space, to avoid having owners feel they have to shoulder the longer term costs and responsibility. The funding we were able to get from the GM grant really helped provide additional subsidy so we can make a good demonstration in this case and bring it to scale in other sectors and for more affordable multifamily properties."
"Mobility is also not the end; it's a means to an end."
Monisha Shah from the Biden Administration's Joint Office on Energy and Transportation shared with Terea Macomber, GRID's Director of Clean Mobility Programs, about the opportunities for innovation with the federal government's funds. "There is so much opportunity for innovation because we have at our Joint Office, the Department of Transportation, who have the knowledge on how to put the 'steel' in the ground, who know how to get new infrastructure out there. We also have the folks from the Department of Energy with the research and development background, who are pushing for innovation in our brainstorming. When you work on equity in the context of innovation, it's exciting because you get to be the change agent and you're constantly trying to figure out how you can bring everyone together, the risk adverse folks and the ones who want to push the envelope." Shah also said, "These are long term major investments and we can't afford to just 'check the box.' We are building brand new infrastructure, and I think success looks like communities not having to bear the air pollution that has historically been created. Real wealth is being built in communities, and we want folks to actually feel like they have agency in these new transit systems and that they have capacity to be a part of the process of creating this new infrastructure. Mobility is also not the end, it's a means to the end, helping people get to work and to school and access to healthcare."
Four Guiding Principles for Practicing Equity in the Deployment and implementation of Charging Infrastructure
"In fact, it is by investing in low-income communities and communities of color and prioritizing their access to benefits from charging infrastructure that we will ensure no one is left behind in the rush to reach a zero-emission future," says Leslie Aguayo, Greenlining Institute's Climate Equity Program Manager, who is also featured in GRID's People Powered video. 
The Greenlining Institute, one of GRID's community partners, produces great resources on clean mobility equity, including its white paper, Achieving Resilient Mobility, that recommends a set of guiding principles to advance equitable and resilient mobility efforts that can help build community resilience to climate change impacts. In addition, the Institute outlines four key principles for deployment and implementation of EV charging infrastructure in its blog, Achieving Electrification Equitably: Principles of Building EV Charging Infrastructure for Everyone. Highlights of these principles are below:
 1. Define Equity and Benefits and have accompanying metrics. The first and most important principle, often overlooked, is establishing a robust and specific definition of "equity" and accompanying metrics to ensure the collective navigation toward a north star.
2. Benefits should serve people, not places. It is easy but counterproductive to disseminate funding and deploy infrastructure in census tracts that are classified as disadvantaged communities or "DACs" and leave it at that. If we want to make equity real, accessibility to the benefits investments are intended to create must be the goal-not simply the deployment of resources.
3. Create opportunities for wealth building and facilitate access to the new green economy. To create a more just economy, we must reimagine the benefits of community infrastructure investments to include economic development opportunities for communities impacted by the legacies of redlining, disinvestment, and systemic racism. In other words, infrastructure investments should create opportunities for wealth-building by facilitating access to jobs and economic opportunities within the burgeoning green economy.
4. Climate and resilience planning should prioritize people, not property. Often, when we talk about community resilience, it is in anticipation of a disaster and focuses on the prevention of property or infrastructure damage. This framework centers property over people and inevitably leads to less equitable outcomes. Building resilient communities includes reinforcing physical space but more importantly, it should also include reinforcing social ties.
GRID knows that transportation electrification can serve as a powerful vehicle for economic development and wealth building. Based on our analysis of US Census data, the communities GRID serves spend well over $100 billion annually on gasoline – money that largely leaves local towns and cities to fund the global oil economy. GRID works with state, regional and local agencies and utilities across the country to ensure equitable and affordable access to all types of electric vehicles. GRID provides home Level 2 chargers to income-qualified drivers throughout California through CARB's Financing Assistance programs and recently secured millions of dollars in funding to build out shared EV charging infrastructure at multifamily affordable housing – much of it solar powered. The majority of folks in GRID's communities are renters who can't currently charge at home, making them dependent on public EV chargers that can cost 2-3 times more. GRID advocates for EV charging at multifamily housing to ensure that clean energy is accessible to and benefits everyone. GRID looks forward to its continued efforts in the clean mobility space in 2023.
GRID thanks the GM Climate Equity Fund, our webinar guests, and the participants in our new video. It is our hope that our webinar will serve as a catalyst for ongoing discussions among implementers and communities, and the strengthening and forging of new collaborations, because simply checking the equity box will not create the effective systemic changes nor true environmental justice that we seek to see and that individuals and families so deserve.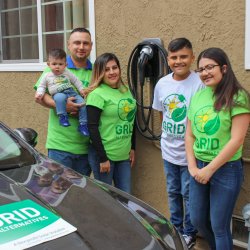 We can't leave anyone behind
As part of GRID Alternatives' vision of a transition to clean, renewable energy that includes everyone, we are making electric vehicles, electric vehicle charging and other clean mobility options more accessible to the communities we serve.