Resiliency, according to the dictionary, means "the capacity to recover quickly from difficulties; toughness." Over the past couple of years, this word has become an ever increasingly used  descriptor in regards to our fragile, and sometimes unjust systems. COVID showed us how our local food system is vulnerable to supply chain challenges and reminded us of existing health disparities for communities of color and underrepresented populations. We heard the calls - we need to build a sustainable and resilient food system and a resilient and accessible healthcare system.
Climate change and natural disasters also signal an urgent need to implement solutions that can help mitigate the unimaginable havoc, despair, and fear that communities face in the storm. As the two recent hurricanes - Fiona and Ian - swept across Puerto Rico and Florida, we watched with heavy hearts another moment where the impact of global warming caused destruction. In 2017 Hurricane María weakened Puerto Rico's already unstable electric grid, leaving many communities on the island without power for months. With efforts to rebuild the electric grid from Hurricane Maria still in progress, the effects of Hurricane Fiona resulted in 1.5 million people without electricity for weeks. In Florida, Hurricane Ian left 2.6 million people without power. No electricity means that residents end up relying on gas-powered generators that are incredibly dangerous to their health and create a higher demand on expensive gas. It also means that people cannot cook, preserve food in the refrigerator, heat water to bathe, use their medical devices or air conditioners, or open businesses, schools or hospitals. For communities historically exposed to pollution and environmental injustice, the recovery efforts can take much more money, effort, and time, as we witnessed with Hurricane Katrina in 2005. 
"As grid outages are increasingly exacerbated by the impacts of climate change, building back greener has never been more important. Access to emergency clean power and resilient infrastructure is integral to the well being of communities, especially those who are disproportionately affected by the impacts of climate change," said Jamie Swezey, the Program Manager at the Footprint Project.
Footprint Project is a GRID partner that believes that response whacks the weed, but resilience plants the seed. As we strive to break the negative feedback loop of responding to climate emergencies with fossil fuels, the Footprint Project emphasizes the need to reimagine the traditional, response-centered cycle of disaster relief. This is why they are working with communities to build resilient infrastructure before the next storm.
For those of us in the renewable energy space, we call for a resilient and sustainable clean energy system, where solar power and battery storage can help individuals, families, and communities access energy in the aftermath of these storms, and every day in between.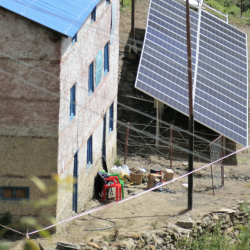 Plug into the global grid
Your support connects communities in Nicaragua, Nepal, and Mexico to clean energy solutions. Join GRID's International Program in bringing renewable energy technologies to families worldwide.
What does resilience look like in the renewable energy space?
Berkeley Lab, in collaboration with the National Renewable Energy Laboratory, released a report on a study to see "whether a rooftop solar system combined with a 10- or 30-kilowatt-hour battery could power critical loads, like refrigeration, lighting, internet service and well pumps; if it could go further and also power heating and air conditioning; or if it could even power a whole home. According to the report, "even a modest system of solar plus one battery can power critical loads in a home for days at a time, practically anywhere in the country." This report sheds light on the incredible effects of solar and battery storage in building a resilient clean energy infrastructure.
Organizations like GRID Alternatives and others are working hard to make clean energy accessible to everyone. As the largest US-based nonprofit solar installer, with international offices, GRID has installed solar for close to 25,000 households and engaged about 46,400 people in solar education and training since 2004. GRID focuses its work internationally on energy access in off-grid communities and cost savings for mission aligned organizations in grid-tied areas, and in the US on communities most impacted by underemployment, pollution and climate change. With new initiatives in battery storage and clean mobility, GRID seeks to build a resilient clean energy infrastructure that can drive community economic growth and environmental benefits. A project in Baja California, Mexico, where GRID installed 20 off-grid solar home systems and 20 off-grid solar-powered refrigerators in the communities of Juntas de Neji and San Antonio Necua, exemplifies this work and could be replicated in places like Puerto Rico.
GRID is grateful to the Footprint Project and their partner organizations in Puerto Rico and Florida who assisted with emergency relief efforts after the two hurricanes, including Empowered By Light, the Sail Relief Team, and the United Methodist Committee on Relief.
Clean Energy Powers the People
Although solar energy is one of the fastest growing clean energy industries in the United States, only 3.2% of single-family detached homes have installed solar panels. Residential solar also generates a smaller percentage of total US energy production, making up less than 1% of all energy production in 2021. The Inflation Reduction Act is a promising legislation with the largest federal investment in climate change, offering individuals and families new affordable opportunities and incentives to have solar panels, and in turn to save money, time, and to be involved in building resilient renewable energy solutions for their neighborhoods.
When communities are resilient, they are healthier, happier and more economically stable, enabling them to bounce back faster from environmental shocks. Access to reliable electricity means families can use lighting, refrigeration, electric appliances and tools to grow and thrive. Solar power can improve health and education, reduce unpaid work, and increase opportunities for local income generation. The benefits are epic, and the will to implement must be paramount.

The science is clear that without drastic mitigation efforts, the intensity and severity of hurricanes will continue to increase. By prioritizing climate resiliency now, we are one step closer to better protecting people, communities, and our planet.
Image shows Footprint Project and partners United Methodist Committee on Relief (UMCOR) in Port Charlotte, Florida showcasing the installation of a community solar garden, part of Hurricane Ian relief efforts. Photo courtesy Footprint Project.