GRID Alternatives and Habitat for Humanity Greater San Francisco were honored to host White House National Climate Advisor Ali Zaidi and his team to an affordable homeownership project powered by clean energy on March 14, 2023. This project is one of many that Habitat and GRID have partnered on over the last 15 years, and demonstrates the benefits and important intersections of planning for affordable housing and clean energy at once. 

Pictured (L) Arthur Bart-Williams, GRID Bay Area Executive Director, (C) White House National Climate Advisor Ali Zaidi, (R)  Maureen Sedonaen, Chief Executive Officer at Habitat for Humanity San Francisco 
Mr. Zaidi and the group toured the construction site of an 8-multi-bedroom condominium home complex in San Francisco's Diamond Heights neighborhood, an area of the city historically lacking in affordable housing. Construction of the 6,404 square foot lot on Amber Drive began in late 2021 and will be completed this year. These new affordable homes were made possible thanks to generously donated land that previously held only one home.
The architecture of the complex was specifically designed to accommodate solar panels. Three of four roof planes are oriented west and at optimal tilt to optimize time of use saving. Because there are no vents or other obstructions on the roof, GRID Alternatives was able to maximize the available solar area. Conduits run internally through the building for a cleaner aesthetic. Each unit will receive about 5.27kW-DC, allocated equitably, based on square footage, via Virtual Net Energy Metering. The 42.18kW system used the highest efficiency panels to maximize solar production, and due to the high efficiency building envelope design the home is expected to need less heating and cooling than existing buildings, allowing it to possibly reach zero-net-energy. Habitat is proud that the all-electric homes will be powered exclusively by renewable energy.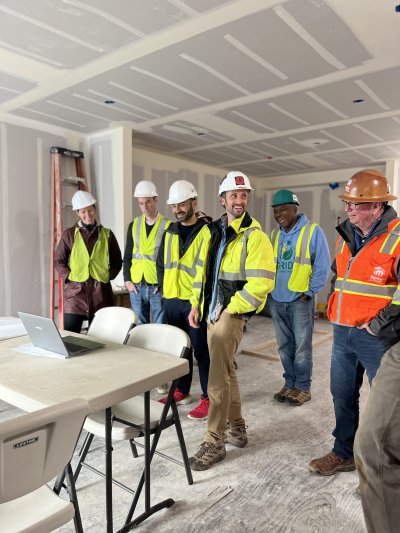 Habitat for Humanity Greater San Francisco received over 500 applications from prospective homeowners, and selected eight qualifying families from the City of San Francisco's Mayor's Office of Housing waiting list for affordable housing, including some families who have been on the list for decades. As part of their eligibility requirement, homeowners contribute "sweat equity" hours toward building their future home.  
"This project is a dream come true for eight San Franciscan families, who will now be able to stay in the city and continue to contribute to their community," said Maureen Sedonaen, CEO of Habitat for Humanity Greater San Francisco. "And thanks to our valued and longstanding partnership with GRID Alternatives, these new homeowners will save money on their utility bills through renewable solar energy." 
Data shows 1 in 5 families in California spend more than half their paycheck on housing, and a disproportionately higher percentage of their income on their utility bill. For many households, that means having to make impossible choices between paying for groceries, medicine, getting to and from work, and paying for the roof over their heads. 
Both organizations highlighted lessons learned from the partnership and project with Mr. Zaidi's team. In particular, GRID and Habitat shared about the need to de-silo conversations and planning around affordable housing and clean energy planning, especially as more federal incentives from the Inflation Reduction Act start to make their way through state agencies. GRID and Habitat's models could serve as templates for other community organizations aiming to do the same thing elsewhere, and both organizations are committed to serving as resources for the White House as the Administration works towards implementation.
"GRID Alternatives deeply values the partnership with Habitat for Humanity, which allows us to scale clean energy to more families and more communities in California," said Arthur Bart-Williiams, Executive Director of the GRID Alternative Bay Area chapter. "This type of collaboration is important because it addresses the intersections between affordable housing, economic and environmental justice, and provides a scalable model for other parts of the country. These issues are very interrelated and need collective attention from governments, nonprofits and businesses." 
"Seeing this project firsthand reinforced for me the imperative to translate the historic investment President Biden has secured for clean energy into tangible solutions that lower costs for American families," said White House National Climate Advisor Ali Zaidi. "The work GRID Alternatives and Habitat for Humanity are doing embodies the kind of collaboration we need to scale these solutions nationally, and to forge stronger partnerships with federal, state, and local leaders."