GRID has been working in Mexico since 2017 installing solar to support indigenous communities, health services, and organizations that provide critical care to people in transition including migrants and parentless children.  
While many indigenous communities in Baja are relatively close to the national electric grid, they are not connected due to infrastructure, land rights and affordability.  Many families buy ice from a nearby town to keep food cold, use flashlights and lamps to see at night, and burn diesel fuel to power electric equipment which is expensive and causes local air and noise pollution.
GRID works together with community leaders to identify needs and develop solar projects that directly benefit residents by providing clean reliable solar energy access.  To date, GRID has brought solar home systems to 63 off-grid homes, solar refrigeration systems to 20 off-grid homes, and solar to one school in Juntas de Neji, San Antonio Necua, Santa Catarina; three indigenous communities in northern Baja California, Mexico.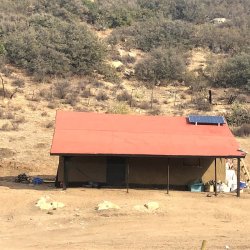 Recently, GRID installed 20 off-grid solar-powered refrigerators for families in the Kumeyaay communities of Juntas de Neji and San Antonio Necua with support from Sempra Foundation. Refrigeration allows families to keep food, beverages, and medicine cold without having to drive 20-40 minutes to a nearby town to buy ice.  The solar systems immediately save families time, money and improve health.
GRID plans to install 38 more solar systems in these communities in 2023 including supporting a sports center, a school that teaches Kumeyaay language, a health clinic and more solar home systems and refrigeration systems.
Resources:
Families in two indigenous towns go solar in Baja California, México